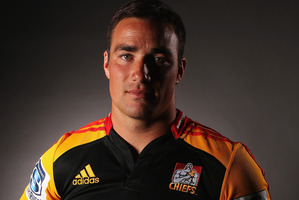 Q: What difference do you think Richard Kahui will make coming back into the Chiefs?
Bill of Matamata
It will be a real boost for the morale of this tight team, players and supporters, Bill, to see a man who has worked so hard off the field get his reward with game time in a jersey he cherishes so much. Kahui is a true Chiefs warrior. This week he will have to do that via the bench (hopefully) but watch out for the well wishes and smiles when he does take the field. His impact will mean a little tweaking of the Chiefs back attack and with Tim Nanai-Williams in such good form, making a lot of breaks on the outside, Kahui may be forced to slot into second five-eighths. From phase play this would see him taking the ball more as a first receiver, drawing in defenders like they did with SBW last year, pushing Aaron Cruden and Nanai-Williams out wide into space which is, when you add in Lelia Masaga, a pretty exciting prospect. This will be Kahui's last season with the Chiefs and I know after missing out on the grand final last year every action on and off the field will be a positive one for him and his team.
What's happening with the Highlanders?
Nathan from Gore
I sense your frustration in your short and to the point question Nathan. I have been on the sideline for the last two of their home games and while the endeavour is there, the team work and attention to details is not. The lineout isn't functioning and when you add that to their error rate, this team cannot build or sustain pressure for long enough to make it count. Jamie has picked a team heavy on experience in some areas but when your senior players, Brad Thorn apart, are struggling through injury/suspension it is hard for them to make the contribution needed. The loss of Nasi Manu has also had a huge impact and the team needs to find someone who can take the ball over the gain line and get them moving forward. While not part of his squad, I think a player like Otago's TJ Ioane can do just that for him. Last week they were better than the week before but in this competition the bottom line is you need to win at least 11 games to make the play-offs. So whether that's at the start, middle or end of round robin it doesn't matter, what matters is that they and you have got to keep believing they have a chance. You have some good men down there, and I would back Jamie Joseph to get you out of this.