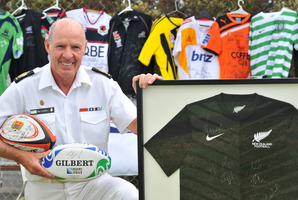 A veteran Navy sailor is putting a vast collection of sporting memorabilia under the hammer to raise cash for the Fallen Heroes Trust.
Warrant Officer (WO) Mick O'Carroll has served in the Royal New Zealand Navy and the Royal Navy for 40 years.
To give something back after his long and distinguished naval career, he has masterminded a remarkable collection of sporting memorabilia to bring in much-needed funds for the Fallen Heroes Trust, which supports the families and injured personnel from the New Zealand Defence Force.
He came up with the idea after hearing of the Army helping to fit-out a new Mitre 10 store in Christchurch last year.
WO O'Carroll wrote to top sporting clubs and organisations around the world asking them to support his idea. He was stunned with the response.
Football club giants Real Madrid, Liverpool and Glasgow's Celtic and Rangers all came through to donate signed items.
Legendary SAS soldier Willie Apiata personally donated a signed copy of his book, 'The Reluctant Hero'.
There's also a 2011 World Cup Rugby ball signed by cross-code star Sonny Bill Williams and a signed team photo of the England test cricket side, donated by the England and Wales Cricket Board.
The collection of more than 50 items also features rugby union, Warriors and ARL jerseys, a cricket bat signed by the 2010 Australian team, a framed Real Madrid pennant, Team NZ Yachting paraphernalia, and a life-sized poster of Nick Willis from the Beijing Olympics.
"It is a great cause and helps support our people. The auction has just grown from there," said WO O'Carroll.
"Our people are our most important asset. Alongside our Army and Air Force colleagues, sailors perform roles where we may put ourselves at risk.
"This Trust acknowledges the support of our family and friends, who make up a significant part of our Defence community and enable us to do our job well."
The collection of bats, balls, photographs, and clothing includes regional, national and international sporting organisations - many of whom have signed their items.
Lynne O'Brien, the mother of Corporal Luke Tamatea, 31, who was killed alongside two Kiwi comrades when the Taleban blew up their Humvee with a roadside IED in Afghanistan last August, backed WO O'Carroll's auction.
"This is a great initiative from WO O'Carroll, and we appreciate his enterprise and drive to get so many items," Ms O'Brien said.
"Fallen Heroes is a worthwhile cause, and we certainly appreciate the support they are providing families in challenging situations. We hope the auction is a success."
The sporting goods will be auctioned online through Trade Me from today (Thursday) until March 28.
http://trade.me/fallenheroesnz
apnz kb gf
- APNZ