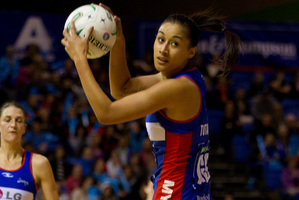 Any athlete will tell you reaching a performance plateau is an extremely frustrating time in their career.
Netball administrators are experiencing the same kind of growing pains as the transtasman league enters its sixth season this weekend.
Once seemingly speeding headfirst towards becoming a fully professional sport in this part of the world, netball's progress has slowed somewhat in the past couple of years.
The big payday from an Australian broadcast deal that organisers had banked on when the competition first got off the ground has so far failed to eventuate, with the ANZ Championship to receive only modest rights fees from a new deal signed this month, of which details are yet to be released.
With no significant extra revenue coming in, the chances of the athletes getting paid more and the competition expanding to get rid of the highly contentious one-and-a-half-round draw any time soon don't appear likely.
"It hasn't matured as quickly as we'd hoped from a broadcast and commercial perspective," admits Netball New Zealand chief executive Raelene Castle.
"The Australian broadcast market has been a lot more challenging for a female sport to break into."
While progress has slowed, the competition is by no means going backwards. The administrators have taken a conservative approach when it comes to expansion, with financial sustainability guiding their every decision.
Yet the joint partnership between Netball NZ and its Australian counterparts has reached a critical juncture and it could be a timely opportunity to re-examine their objectives. The seeds of the transtasman league were planted in early 2006, when, with the now defunct domestic league sponsored by a now defunct bank in its ninth year, Netball NZ recognised that the product had gone as far as it could under that format.
They began kicking around ideas and came to the conclusion that if the game was going to grow, they needed to expand into Australia.
But to do so meant joining forces with their fiercest adversaries.
"It was like sleeping with the enemy in a sense. There were some very fraught meetings in the early days, it took a long time to build that trust," says Castle.
But the longer they looked at it, the more they realised a transtasman netball league had the potential to be mutually beneficial. Each country in a sense had what the other yearned for.
New Zealand wanted a strong, competitive league, which depth in this country didn't allow for, while Australia had looked enviously at the profile and media coverage netball enjoyed in this country and wanted a piece of the action.
With Australia failing to make the inroads they had hoped for, there is an argument that they may have handed away their competitive advantage without achieving the objectives they wanted.