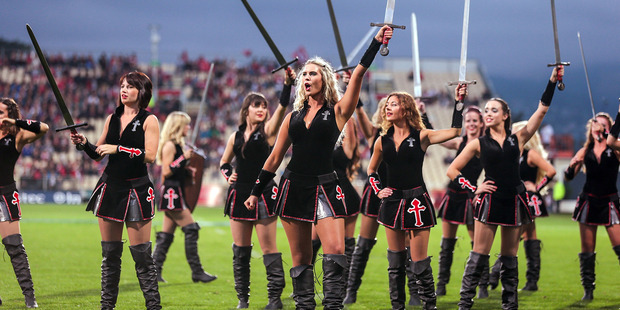 The resurgent Crusaders have unveiled their latest weapon for making AMI Stadium a fortress throughout the Super Rugby season - The Maidens cheerleading team.
Wielding swords and shields, and kitted-out in skimpy red and black "maiden meets warrior" outfits, the cheerleaders will do a guard of honour when the players run onto the field at Christchurch home games.
They'll add to the medieval battleground theme at Crusader home games, and perform alongside the popular Crusader horsemen.
The Maidens, who vow on the team's official facebook to 'help our boys protect our castle', made their debut before Saturday's home win against the Bulls.
The 20 performers were selected after auditions in December and January which judged their dancing and performance skills.
The Crusaders also wanted them to display "a bit of an attitude and take on various personas", while also representing a broad cross-section of the local community - something that would "appeal to everyone".
"We felt it was time to refresh our cheerleaders," a spokeswoman for the rugby powerhouse franchise said yesterday.
"We wanted to bring the whole thing much more in line with the Crusader brand, hence The Maidens were born."
The girls, who practise weekly, come from a range of professions, including dancers, a nurse, mum, bar manager, research assistant, and business development manager.
One of the Maidens, University of Canterbury law student Lily Cane, said: 'I love rugby and being a Crusaders' Maiden is the ultimate way to support our team."
Another dancer, Kate Elizabeth Limuloa added: "What a feeling it is stomping onto that field and amping the crowd.
"We Maidens are totally ready to do whatever we can to back the red and blacks. Go team go!"
- APNZ