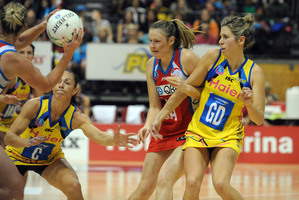 It's 5.30 in the morning and barely a soul is stirring as Victoria Smith shuts the door of her Wellington home. She won't return for another 15 hours.
Laden with bags, the Pulse defender makes her way to the ASB Sports Centre for a strength-and-conditioning session.
She is joined at the 6am session by her other teammates who are working or studying - like Silver Fern midcourter Camilla Lees, a doctor, and teacher Claire Kersten - while those in the team who have more flexible schedules will train together four hours later.
By that stage Smith will already be well into her working day.
When the session wraps up, Smith races to shower then changes for work, before making her way through rush-hour traffic to her job as a brand manager at Loyalty New Zealand - the company that runs Fly Buys.
With breakfast, lunch, snacks and a pre-training meal all eaten at work, Smith's food takes up a large chunk of the space in the fridge, much to the amusement of her colleagues.
Her lunch break is often the time for physio or nutrition appointments - on Tuesdays it's yoga.
"I have to be so organised in my netball and work life to make sure I'm not letting things slide," says Smith.
By 4pm she is out the door again, this time to training in Porirua.
There's a team debrief, video analysis and an hour of skills work before the Pulse get in some match play against a local men's team.
With more than 10 years' top-level experience, Smith is a valuable member of the Pulse side. Solid and reliable, she's the type of player who will get the job done in a no-fuss way.
But her opportunities for court time are limited, with Silver Fern defender Katrina Grant and Te Huinga Reo Selby-Rickit considered the Pulse's top defensive pairing. Nevertheless, Smith still prepares as though she will play every minute of every game this season, putting in the same effort and commitment as the stars in the team.
Despite receiving a paltry salary (Smith was unwilling to disclose details of her contract, but it is understood to be no more than $20,000), the 30-year-old said there had never come a time when she had questioned whether playing in the transtasman league was worth it.
"I've never played netball for the money or financial gain," she says. "I like being able to challenge myself physically as well as mentally ... getting out there with the best and trying to improve each week."
During the season, Smith will reduce her hours to 30 a week, but it is still a challenge. When the team is on the road, Smith stays in touch via phone and email, but colleagues know on game days she is off limits.
The Wellington-born defender, who moved to Australia when she was 6, completed a double degree in commerce and business management while she was playing in Australia's old domestic league.
Netballers are good at keeping many different balls in the air.