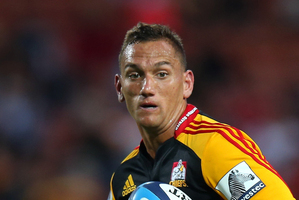 Aaron Cruden is still unsure whether he will be kicking for goal against the Highlanders this weekend.
With converted fullback Gareth Anscombe excelling with the goalkicking duties this season, Cruden's reluctance to commit to the job because of a groin niggle isn't such a hardship for the Chiefs, but it complicates selections elsewhere.
Fullback Robbie Robinson is nearing a return from long term injury but would probably only start at the back if the Chiefs decided to rest All Black Cruden and move the ever-valuable Anscombe to first-five.
While 24-year-old Cruden's ongoing problem gives the selectors something extra to think about, it is also frustrating for the man himself.
"I'd love to have the kicking duties back, but at the moment just with the groin the way it is, it seems to flare up whenever I do an extended kicking session," he said.
"It's starting to get there. It's probably not the way I wanted to start the season, picking up a few niggles, but I'm just working really hard with the physios here and making sure the body's right.
"We're pretty lucky to have a guy like Gareth stepping up to the mark and he's kicking really well."
Cruden's groin issue began in the first week of pre-season training.
"I probably wasn't used to the amount of training we were doing and ... the boys were already a long way into their pre-season training. I came back and started kicking then and that's when I started feeling it flare up."
With three victories from four and the trip to South Africa over and done with, the Chiefs - second overall and first in the New Zealand conference - are well placed to push on in their title defence.
They host Jamie Joseph's strugglers on Friday night after already beating them in pre-season and in round one and are poised to welcome back a host of formerly injured reinforcements including Robinson and former All Blacks Richard Kahui and Brendon Leonard.
"Those guys coming back into the fold has brought really good energy and it's great being back at our Ruakura base here. Since we've been away those guys have been put through their paces and it's good to see them hopefully be available for selection."
Playmaker Cruden said overall he was happy with the Chiefs' form but felt their play got a bit loose in the Republic, where they lost narrowly to the Stormers in Cape Town before their bonus point victory over the Kings in Port Elizabeth.
His backline created most of the positives on their trip - Charlie Ngatai impressing at second-five against the Stormers in his first game for the Chiefs, and Lelia Masaga scoring three tries against the Kings.
Cruden added of the three win, one loss record: "At the start the season we'd be pretty happy with where we are now."
Of the Highlanders, who have yet to win this season, he said: "We know they are due for a good game and hopefully it's not this weekend against us."
A scan on No8 Ross Filipo's knee has shown it to be an MCL, rather than an ACL, injury, which means he might yet play again this season.
- APNZ