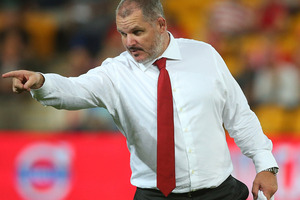 Director of coaching Ewen McKenzie will quit the Queensland Reds at the end of the 2013 Super Rugby season.
McKenzie, who joined the Reds in 2009, guided the franchise to its first championship in 2011 in addition to back-to-back Australian conference titles.
The former NSW Waratahs coach said it was important to give clarity to the organisation, staff and players about the future.
"My experience at the Reds and with Queensland Rugby will be something I'll always treasure but I feel the time is right to pursue new coaching challenges outside of Super Rugby,'' McKenzie said.
"Anyone who knows me understands I have strong coaching ambitions and, after spending nine years coaching at a Super Rugby level, I'm excited about pursuing a different role either here or overseas.
"It was an extremely tough decision to make as I'll leave here at the end of the season with many great memories.
"But, I also feel the organisation is in a strong position to move forward and continue its success in future seasons.
"Having clarity for the future is also a positive for the organisation, the staff and the team and we can now move forward and focus on winning another championship this year.''
Richard Graham was appointed head coach for the Reds this year while McKenzie assumed the role of Director of Coaching.
Queensland Rugby Chairman Rod McCall, who was responsible for the appointment of McKenzie, praised his contribution.
"When Ewen joined us in late 2009 the Reds and Queensland Rugby were at a very low point,'' Mr McCall said.
"Over the past four years, Ewen has not only been responsible for turning around the on field performances and attitude of the Queensland Reds, but he has also played an integral role in bringing success back into our organisation and to our wider code in Queensland.
"While it is always difficult to farewell a championship-winning coach, we have always known that Ewen had aspirations to coach at the next level.
"This season still represents plenty of challenges as evidenced on the weekend, and we expect the group to respond accordingly. Knowing Ewen as I do, I expect that he will want his time with the Reds to end on a high.''
- AAP