Five reasons why the manager's tenure at Manchester City could be nearing its final days.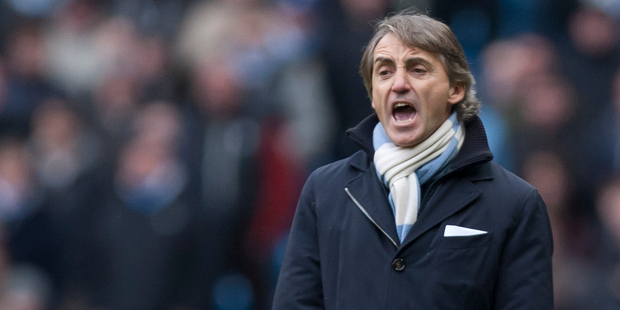 Men who take the Premier League title from Sir Alex Ferguson do not last long. Kenny Dalglish quit the moment he did. Carlo Ancelotti lasted a season, while Jose Mourinho survived a few months after Manchester United wrested their championship back. Here, after a 0-2 defeat at Everton all but finished off Manchester City's hopes of retaining their title, are five reasons why Roberto Mancini may go the same way.
1.The creative tension isn't that creative any more
Gary Lineker once described Ferguson as a strange man, irritated by everything. The same could be said of Mancini. Last month he was too angry to go into his own dressing room at Southampton, on Saturday he could not bring himself to climb up to Everton's press room. He has rounded publicly on Samir Nasri and Joe Hart while finally putting an end to his relationship with Mario Balotelli. Mancini has always had a good rapport with those in his first XI, although one former player commented: "If you're not in his team, he doesn't want to know you."
2. He is not a man for the long term
By his own admission, Man-cini is not someone who sees himself at the same club for a decade and there have been plenty of offers of work coming his way.
This (northern) summer will be a critical one for City and the owners may want a coach to oversee the fruits of that spending for the next half-dozen seasons or more.
3.Club are paying for an idle summer in transfer market
Mancini is not directly responsible for transfers and it was to his fury that Eden Hazard, Robin van Persie and Javi Martinez went to Chelsea, Manchester United and Bayern Munich, while he had to make do with Javi Garcia, Jack Rodwell and Scott Sinclair. The charge against Mancini is that none of these players, for whatever reason, has made any real contribution.
4.City have become also-rans in the title race
It is hard for any manager to retain a league title. In England only five men in the past 60 years have done it but in points terms City are on course to make one of the worst defences of the crown in the history of the Premier League. Only two champions have finished as far adrift of the eventual winners as City are now. Manchester United limped in 15 points behind Arsenal in 2004, while Blackburn Rovers were fully 21 points off the pace in 1996.
5. Champions League failure counts against him
Should City win the FA Cup - and they are favourites to do so - Mancini's position with the supporters will be cemented still further. However, the key to City's progress is the Champions League and, unless they can qualify for the latter stages and raise their UEFA coefficient, they will be forever condemned to being drawn against the big beasts in the group stages. Will management entrust the club to a manager who has never reached even a semifinal of the European Cup?
-Independent