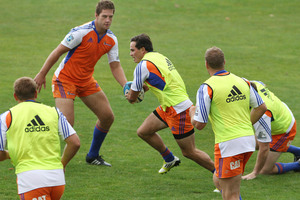 Zac Guildford made a popular return to the training field for the Crusaders today, impressing with his fitness despite an absence of almost two months due to his alcohol issues.
Guildford took a full part in training at the Crusaders' Rugby Park base in Christchurch, with assistant coach Aaron Mauger saying the 24-year-old looked in good shape.
The former All Blacks' wing has played only part of a pre-season game for his Hawkes Bay club Napier Tech after withdrawing from the Crusaders in late January and attending a month-long alcohol rehabilitation course.
However, his fitness and the Crusaders' shortage of specialist wings brings him into the frame for their match against the Southern Kings in Christchurch on Saturday night. He is likely to enter the match via the reserves' bench after Johnny McNicholl and Tom Marshall impressed - and scored tries - in their team's 41-19 victory over the Bulls.
"He's having his first run around and the energy's good," Mauger said. "He looks like he's in pretty good nick, so I don't think it will take him too long to get into it.
"He's made a few changes, some changes we're going to see. He's a different man, so we're looking forward to seeing him go first day back."
"It's business as usual for us. The players welcomed him back in. He did a great job on Friday."
Guildford addressed the team on Friday, talking about his issues and the support he needed. It was a speech which went down well with the players, with some saying it helped inspire them to their much-improved effort against the Bulls a day later.
"He's our mate so it it's great to have him back in the environment and he's loving it, too," prop Wyatt Crockett said. "It's fantastic and we're just so stoked to have him back."
"We've sort of been keeping in touch with Zac the whole time, through text messages and what not. So the guys know what he's been dealing with, and that's been really good, so when he comes back we're not having to ask him heaps of questions about it, we can just get on just like normal, really.
Asked if the senior players needed to look after Guildford, Crockett replied: "It's on all of us, on every single one of us to be good role models and to help him out. But at the end of the day, Zaccy, he's got to do it himself, and he's going to do that. He's in a great space, and it's just awesome."
- APNZ