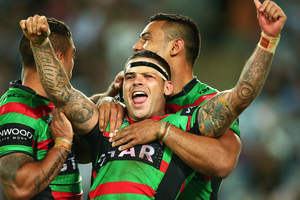 A Wellington punter who scooped a record $250,000 payout today from the TAB after successfully picking eight second round NRL winners is an "NRL nut'' who never punts without studious homework.
After placing a $5000 multi bet on all eight favourites, the gambler - who is adamant he wants to remain anonymous and will not comment - needed the Rabbitohs to come through against the Sharks last night to collect his winnings.
The man would have been on the edge of his seat as the Rabbitohs edged out a 14-12 victory.
South Sydney's nail-biting win meant the punter took home $250,000 - the maximum payout for any single TAB multi.
It's rare for all TAB favourites to win in any competition.
TAB sports bookmaker Kieran McAnulty said it equals the biggest ever sports payout.
Another punter won $250,000 in 2007, but his sports multi outlay of $88,000 massively outweighed last night's winning bet, which meant this week's punter cleared $245,000.
"I get quite nervous when I have a $10 bet on a game, so I can't imagine what he was going through. Good on him,'' said Mr McAnulty.
Vanessa Manihera, manager of the Brandon St TAB in Wellington, where the lucky punter took his bet, said it couldn't have happened to a better customer.
"He's an NRL nut,'' she said.
"He closely studies the NRL form, and comes into the branch to do his homework before placing his bets. He's very astute, and he puts in the hard yards.''
The punter normally only takes head-to-head or winning team and margin bets, but he's taken to "using his nous'' to chase the bigger money on offer with multis and the re-launch of the rugby and league pools, with a guaranteed pool of $100,000.
* Other big TAB returns include:
$1.1 million from an $8 Pick 6 bet in 2010
$440,000 from a $2000 racing multi in 2012
$375,000 from a $50 trifecta in 2007
$330,000 from a $50 trifecta last year
$330,000 from a $20 Pick 6 last year
- APNZ