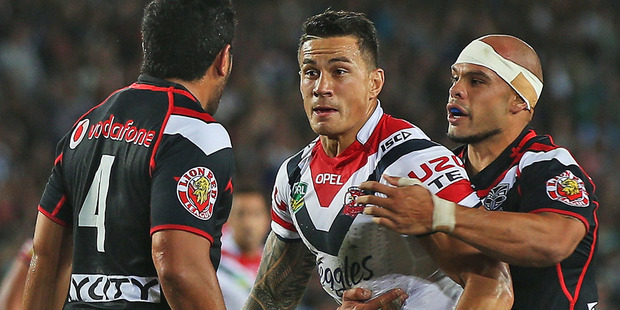 New Zealand Warriors centre Konrad Hurrell has admitted it wasn't the wisest thing to square up with a heavyweight boxing champion on the rugby league field.
Hurrell and Sonny Bill Williams have made up via Twitter after a scuffle in Saturday night's NRL encounter at Eden Park.
The two potential Kiwis teammates squared up in the first half of the Roosters' 16-14 win but no punches were thrown. Warriors prop Sam Rapira stopped any potential damage by holding back Williams.
Williams is the current NZPBA heavyweight champion and has won all six of his professional bouts, three of which by knock-out, since taking up boxing in 2009.
"Hey tweeps I know we all are disappointed from last night but I'm sure it will turn around our way soon!!! #keepthefaith," Hurrell tweeted after the match.
"And will never pick a fight with @SonnyBWilliams was just trying to look after my brother in the field.Wrong guy to pick a fight with!!! Lol"
Williams was quick to point out he was in the wrong.
"I respect that toks. My bad I was in the wrong, I was just trying to slow him down lol.. Good luck with the rest of the year."
Hurrell's Warriors' teammate Manu Vatuvei cheekily got involved in the conversation.
"@SonnyBWilliams @konihurrell haha you should of slapped his head lol that was funny!! Hope you pulled up alright!! Gudluck on yah nek game!!"
After the match Warriors coach Matt Elliot said his side weren't looking for fights but they wouldn't be intimidated by other teams.
"Regardless of who we are playing we don't take rubbish off anyone.
"It's not a matter of who he [Hurrell] is squaring up against, it's a matter of what he's doing it on behalf of. We won't be going looking for fights, but we won't be standing down from them either."
The Warriors remain one of three teams yet to record a victory after the opening two rounds of the NRL. They will look to stop a 10-game losing streak which stretches back to last July when they head to Cronulla to take on the eighth placed Sharks next Sunday.
- nzherald.co.nz