Epic battle as Waitakere come back from behind twice to claim ASB Premiership final.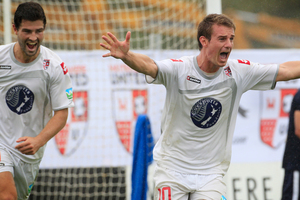 In a game which had everything, Waitakere United twice came from behind to beat 10-man Auckland City 4-3 in yesterday's ASB Premiership grand final at Fred Taylor Park and write the latest chapter in epic battles between the two clubs.
For only the second time in nine such finals, extra time was needed before Waitakere claimed their fourth straight win - and fifth overall - in the season finale.
But, from the time Matt Cunneen gifted the visitors their 15th-minute opener, Waitakere had to battle to keep their chances of a first domestic treble alive. In the end braces to Roy Krishna and Allan Pearce were enough to claim the honours.
Manel Exposito replied in a like manner for City, including that well-taken early effort, with Chris Bale, who was in Waitakere's winning team a year ago, adding the other.
The final score continued the raft of such matches to be decided by the odd goal and stirred memories of that epic clash six and half years ago when City came from 0-3 to win 4-3 in a game made memorable by the 19 cards flashed by referee Neil Fox.
Krishna confirmed his standing as the season's leading goalscorer in claiming his sixth and seventh goals in post-season (and 19 overall) - his first the 30th minute equaliser - a contender for goal of the season.
Pearce scored the go-ahead goal for the hosts three minutes later. A deft near post header from a Chad Coombes corner disappointed City coach Ramon Tribulietx as did Pearce's second, and winner, from another corner, 10 minutes into extra time. "That was disappointing," said Tribulietx. "We were well aware of what they would try to do but on the day could not stop them.
"But that should not detract from what was a beautiful game of football. I'm very proud of my players. It was another of those battles we always expect. It could have gone either way. We had more chances than them."
None more than Gustavo Souto who was in the thick of it with two of those chances in extra time. Waitakere goalkeeper Danny Robinson pulled off a couple of game-saving efforts to deny the visitors.
By the time Waitakere claimed the silverware, referee Peter O'Leary had flashed 10 yellow cards and a straight red to City substitute Simon Arms 18 minutes after he had replaced Alex Feneridis who was booked five minutes into the game.
There was a late call for a City penalty when Adam Dickinson went down in a Tim Myers challenge in the fifth minute of added time after the 90 but that was waved on and the home side, who had snatched their dramatic equaliser four minutes earlier, emerged victorious.
"That's better than all right," said Waitakere coach Paul Marshall. "We knew discipline was going to be a big factor and I'm proud of how the boys coped."
Auckland City's Chris Zoricich-coached team scored three second half goals to beat Otago United 3-0 to claim the ASB Youth League.
Waitakere United 4
Auckland City 3