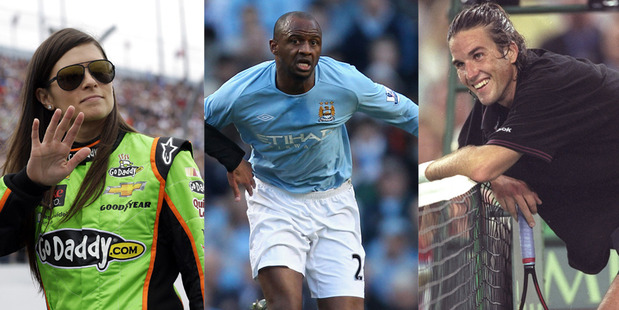 To mark St Patrick's Day we look at sportspeople who have done the Patrick name proud.
Patrick Vieira
French midfielder Patrick Vieira enjoyed a sparkling football career where he played throughout Europe for the better part of 17 years. The 36-year-old won three English Premier League titles at Arsenal during his spell with the Gunners from 1996-2005 before he moved to Italian side Juventus. Capped 107 times for his country, he now works for English giants Manchester City as their Football Development Executive.
Pat Rafter
Australian tennis player Pat Rafter banked more than $US11million in prizemoney during an 11-year professional career that saw him win back-to-back US Opens in 1997 and 1998. Rafter was also a two-time finalist at Wimbledon and was elected to the International Tennis Hall of Fame in 2006. He won 10 doubles titles during his career, including an Australian Open crown in 1999 with Swede Jonas Bjorkman.
Pat Cash
Fellow Aussie tennis star, Cash captured the 1987 Wimbledon title, his only grand slam title, with a straight sets win over Ivan Lendl. He went agonisingly close to winning his home grand slam, twice making the Australian Open final only to fall to Swedes on both occasions, first Stefan Edberg in 1987 and then Mats Wilander a year later, losing 8-6 in the fifth set.
Danica Patrick
So it's a last name, not a first name but there's plenty to like about the coolest chick in motorsport, Danica Patrick. The 30-year-old was the first woman to lead a lap at the Indianapolis 500, she's the only woman to win an IndyCar Series race and also drives Nascar. The Wisconsin Wonder won pole for this year's Daytona 500 and has been linked with Formula One in the past. Translation: She's pretty handy behind the wheel.
Pat Walsh
Patrick Timothy Walsh played 13 tests and 14 games for the All Blacks from 1955 to 1964. Originally from Northland, Walsh made his test debut against Australia as a second-five eighth when he was only 19 years and 106 days old, making him one of the youngest players to pull on the black jersey.
Patrick Kluivert
The Dutch footballer made his mark in the 1994 season as part of a young Ajax side, which included fellow former youth academy members Edgar Davids, Clarence Seedorf and Edwin van der Sar, that won the Champions League title over AC Milan. That kicked off a successful career which included a six-year run at Barcelona.
He had a mixed international career helping the Dutch make Euro 1996 before he was ruled out through injury. At the 1998 World Cup he received a red card against Belgium but bounced back with a goal in Netherland's quarterfinal victory over Argentina. In the semifinals against Brazil he scored from the spot late in the game to send the match into extratime and then penalties where Brazil came out on top.
Pat Lambie
The baby-faced Springbok is still new on the scene but has impressed since making his test debut three years ago. The Sharks number 10 has a big future in front of him but he'll have to push current Boks five-eighth Morne Steyn from his spot to gain regular starts for South Africa.
But he also has this going for him:
"If you had an 18-year-old daughter, the only rugby player you would allow to take her out would be Patrick Lambie," former Boks skipper John Smit.
Pat Patterson
This column isn't going to argue whether pro wrestling is a sport or not, but Pat Patterson - real name Pierre Clermont - is the man who came up with the concept of WWE's 'Royal Rumble'.
The 30-man over-the-top-rope challenge is a highlight of the pro wrestling calendar and the Canadian grappler produced a stroke of genius thinking of this one.
Patrick Patterson
Not to be confused with the wrestler above, Balfour Patrick Patterson was one of the many quick West Indies bowlers that frightened international cricketers in the 1980s. He played 28 tests for the Windies from 1986 to 1993 starting with a bang, taking 4-29 on debut against England and 7-73 for the match. He finished with 93 test wickets, five five-wicket bags, and his career bowling strike rate of 51.9 is up there with the best of all time - tied with Glenn McGrath.
Sean Fitzpatrick
Ok we're obviously running thin of actual Patricks but how can you deny one of the greatest All Black captains/referees a spot on this list? A record 92 tests for New Zealand and 51 as captain, both passed by current skipper Richie McCaw, Fitzy must surely be rated amongst the greatest hookers of all time.
A World Cup winner in 1987 before going through the drama-filled losing campaigns of 1991 and 1995 he returned to South Africa in 1996 to lead the All Blacks to their first series win in the republic. Full credit.
- APNZ