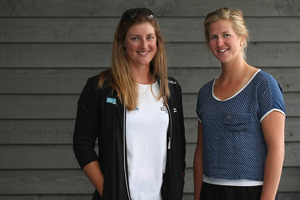 One women's crew spot is likely to garner more attention than any other as Rowing New Zealand embarks on its 2013 campaign.
Former head coach Dick Tonks has taken over the women's programme, featuring largely new double and quadruple sculls boats, as well as an eight and adjusted lightweight crews.
However, Juliette Haigh's retirement from the women's pair - New Zealand's only medal-winning women's crew at last year's London Olympics - means the onus goes on her bow seat replacement Kayla Pratt to maintain the legacy with incumbent Rebecca Scown.
Pratt has the pedigree. She and Kelsey Bevan (who is in the new eight) won the under-23 world title in Lithuania last year under up-and-coming coach Gary Roberts.
They were joint recipients of the New Zealand Women's Rower of the Year trophy, trumping Scown and Haigh. It's further proof that winning, even at age group level, means everything to Rowing New Zealand.
Pratt fits the profile for the archetypal New Zealand rower: articulate, intelligent (she's studying for a bachelor of management studies at Waikato University), a physical force with an oar and modest, out of respect for the sport's medal-laden history.
The 21-year-old took up rowing at Epsom Girls' Grammar School in the summer of 2006-07.
She understands she will face scrutiny from earning the most coveted of the women's spots available. It is a position even women's single sculler Emma Twigg, who finished fourth at the Olympics, had an eye on. Twigg trained with Scown for that specific purpose over summer.
"It gives me confidence," Pratt says. "But it'll be a nerve-wracking experience lining up at the start for the first time in England."
Pratt and Scown will miss this week's opening World Cup event in Sydney before competing in the final two at the Olympic venue, Eton Dorney, and Lucerne in Switzerland.
From there, the New Zealand crews return home for another set of trials and head to the world championships in South Korea, starting in late August.
"At the trials, I was hoping to make any elite crew," Pratt says.
"We were lined up, measured for height [Pratt is officially 177.5cm] and open arm span. Then we did an erg test and began our work on the water.
"All those technical details help the selectors decide on potential power-to-weight ratios if it's hard to separate two athletes. Luckily enough, Rebecca and I clicked. At our trials, she was really relaxed, pointing out what we needed to do, and that's continued into our first week of training. She's been great."
Scown made the decision for the pair to forgo Sydney (along with men's pair Hamish Bond and Eric Murray, and single sculler Twigg).
"Rebecca discussed it with me," Pratt says. "Not going to Sydney means we can get more training under our belts. I said: 'sounds good'. I trust her. She took responsibility and spoke to our coach Gary Hay."
Pratt has endured her share of hardship to make the elite ranks. Although she and Bevan won the under-23s in Lithuania, it was a challenging environment.
"The Lithuanians don't eat a lot of bread, as we know it," Pratt chuckles. "They prefer their sour dough which can be pretty dense stuff and hard on the stomach. It took us five days to get bread you could chew on.
"Also I was a tad wary of what bird I was eating when they gave us chicken wings. You also had to make up your mind whether you were eating beef or horse.
"It became a matter of mixing safety with nutrition."