Offer of seven jerseys this season will cost fans $1295 to show their true colours.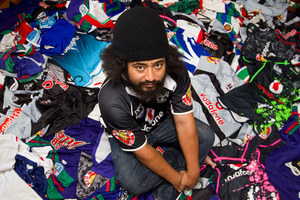 It's the bane of sports fans everywhere - their favourite club changing kit yearly, forcing them to spend big dollars to look up-to-date.
But the Warriors National Rugby League franchise has taken it to a new level - offering seven different jerseys to fans this season.
At $185 each, seven jerseys spell a potential outlay of $1295 for a fan to show their true colours. The move should ensure the Auckland-based club stretches its lead in the Australasian merchandise market.
But even the most diehard supporter is having second thoughts about that sort of outlay.
Charles Raass has been collecting Warriors jerseys since 2001. He has 79, at an estimated cost of $11,000.
"I guess I'm OCD or something," said the stonemason from Mt Wellington in Auckland.
The 33-year-old was not tempted to go the full hog this year, though. "I've actually decided I'm not going to get them. I just can't justify the cost. It's ridiculous, really."
The father of four said the favourite jersey in his collection was probably one signed by Logan Swann, who had two stints with the Warriors from 1997 to 2003, and 2007-08.
Warriors merchandising manager David Camp said fans were always on the lookout for unique gear.
"We do try to limit the number of jerseys we release," he said. "For instance, we also have the Vortex training jersey which we have had many requests for, but we haven't put that one out.
"We have fans contacting us as soon as the players are seen in gear."
The best-selling jersey was the black home strip.
The club opened a team store at SkyCity Casino this year and appointed Camp as the dedicated merchandise manager.
Camp said the Warriors ranked No1 across the NRL for merchandise sales - followed by the Canterbury Bulldogs - and their lead was expected to grow.
"There is still massive potential in New Zealand with the expats in Australia," he said.
Other sporting codes sell home or away jerseys only. Blues Super Rugby jerseys cost $150 each, although 1200 limited-edition jerseys were sold this year for Men's Health Trust NZ.
Phoenix football shirts are $140 and Breakers singlets cost $90.