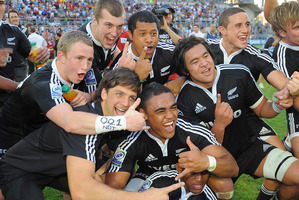 It took 20 years to materialise but 1991, despite the All Blacks' failure to retain the World Cup, was a good year for New Zealand rugby. It was when maternity wards around the country welcomed an inordinate number of talented footballers.
A few months before the All Blacks won the 2011 World Cup, the New Zealand under-20s lifted the junior equivalent and have in the two years since, through the individual achievements of those involved, staked a claim to be considered the greatest age-grade side.
A year after winning the junior world title, three of the squad - Sam Cane, Brodie Retallick and Beauden Barrett - made their All Black debuts, while three of their team-mates (Brad Shields, Luke Whitelock and Ben Tameifuna) were in the wider All Blacks training squad.
All six, plus Lima Sopoaga, hooker Codie Taylor, Gareth Anscombe, Francis Saili, Steven Luatua, Charles Piutau, TJ Perenara, Dominic Bird and Waisake Naholo, have won full Super Rugby contracts and just one of the 26-man squad hasn't pushed on to play in the ITM Cup.
By the end of this year, there will almost certainly be more of this team in the All Blacks.
One or possibly both of Luatua and Shields will make the cut. They have the bulk, mobility, aggression and skill sets to be more than All Blacks, but good All Blacks.
Perenara is going to crack the test scene, it's just a matter of when. It might be this year, possibly next, but definitely before the next World Cup. He'll be going to that - he's outrageously talented.
Charles Piutau and Francis Saili have impressed in short stints with the Blues. They are strong, agile and more than willing to back themselves. They both have that priceless ability to see space and take it.
In time, then, the 2011 under-20 side may produce as many as 10 All Blacks, as Dominic Bird and Codie Taylor are likely to push their claims in the next 12-18 months.
Can any other age-group claim such a haul? Can any other age-group side boast a near 100 per cent transition into the professional ranks? Even if they can, what sets the 2011 team apart is the speed at which their players have progressed.
That is no surprise to Wellington and current New Zealand under-20 coach Chris Boyd, an assistant to Mark Anscombe with the national age-grade side in 2011. He says that it became apparent reasonably early that they were dealing with a special team.
"I can remember when we started to think about selecting the squad and wondering how easy that would be. We sat down and said 'he's a must pick, he's a must pick and he's a must pick'," says Boyd.
"There were a lot of players who were just obviously going to be in there - they were that good and in the end, I think there were probably only about five or six other players that we needed after that.
"We played the final and won, against England, but I remember we were disappointed that we had played poorly. I think we probably should have been about 30 points better than England on the day.
"It was probably by the final trial that I was starting to realise that we had a special group of players and I think that was just random.
"We are the only country, I think, that picks players only for one year - so we restricted ourselves by age band [effectively only picking players born in 1991], making exceptions for Perenara and Cane as the contracting people predicted those two would both likely be in Super squads by 2012 and therefore unlikely to get another chance with the 20s."
In comparison, the 2009 side that won the same junior World Cup, has so far produced two All Blacks in Aaron Cruden and Zac Guildford and a handful of Super Rugby players such as Tom Taylor, Robbie Robinson and Shaun Treeby.
The 2010 side, also crowned world champions, has delivered Julian Savea and Tawera Kerr-Barlow and a good haul of Super Rugby players. Neither the 2009 or 2010 versions are in much danger of adding to their All Black haul and neither can get close to the 2011 side's near 100 per cent transition of players into the professional ranks.
The 2011 side can even claim a bonus of sorts in that prop Reg Goodes has made it to the Hurricanes.
"He had a couple of disappointing trials," says Boyd of Goodes, "so we didn't pick him. I'd say he'd be the one player, looking back, we probably didn't make the right call on."