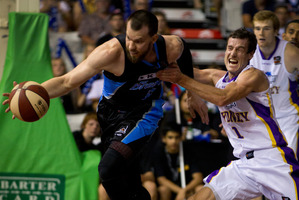 The Breakers' mauling of the Melbourne Tigers showed the club are not merely content with three straight titles - they want to be dominating for years to come.
And, as coach Andrej Lemanis explained, the Breakers have in place the perfect pathways to help the franchise flourish both next week and in five years' time.
For the first time since their inception, the Breakers can offer young players an appealing alternative to heading to the United States and becoming a small fish in the vast pond that is the collegiate system.
Instead of going to America and potentially riding the bench for four years, young New Zealand talent can nurture their game on the North Shore and become better basketball players.
"We invest in these young guys and there comes that point where they get recruited by US colleges and either go off for four years, so we lose them, or they choose to stay," Lemanis said. "We support them in whatever they do but we're being much more aggressive now in promoting ourselves as an alternate pathway.
"It's good for the club and it's good for those kids. I honestly believe that, if they stay and play in our system, we can actually make them better basketball players than if they go through the college system."
The first test driver of this alternative route to professional basketball starred in the Breakers' 30-point win over Melbourne. Rueben Te Rangi, the junior Tall Blacks captain, played a career-high 10 minutes and scored 13 points on four-of-four shooting.
Te Rangi needed to only cast a glance at the three players who outscored him for the home side if he wanted to get a glimpse of his future - Tom Abercrombie, Alex Pledger and Corey Webster, all of whom came up through the Breakers' system.
All three also had stints at US colleges with varying degrees of success, and Lemanis said the likes of Te Rangi were no longer required to follow his teammates' steps to the States if he wished to become a Breakers mainstay.
"He's the first one who's been presented with that scenario and he's decided to give up college to stay. So it's extremely important that he works out. I'm confident that he'll turn into a great player for us and in the next couple of years he'll be playing a significant role in this team."
Webster said he enjoyed his experience at Louisiana State University but, when he made the decision to move to America, the Breakers were far from the alluring prospect for young players they have become.
- APNZ