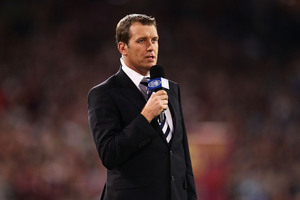 Sky churns through its league commentators the way Sonny Bill Williams changes addresses.
The subscriber channel looks to have finally sorted the situation out with the appointment of the highly respected Australian caller Andrew Voss, the fourth head commentator in four years following on from Jason Costigan, Stephen McIvor and Dale Husband.
Voss will call the home games while Channel Nine and Fox commentators cover Warriors matches in Australia. Voss, a 46-year-old Sydneysider, chats with the Herald.
What led you to taking the new job?
I've always been the Channel Nine commentator who came across for the Warriors games, and the more I thought about the opportunity, the more excited I got. I'd love to play a bigger role in growing the game in New Zealand ... if Sky is interested I'd love to help produce our own shows with a flavour for the New Zealand audience.
How about Kiwi test matches?
Yes - I'm already locked in to cover the test in Canberra (in April).
You were born in ...
Sydney, the youngest of three boys. My brothers picked the teams closest to home (in Ryde) ... I liked rabbits so I picked the Rabbitohs to support. I was a league groupie as a kid - there wasn't a weekend when I didn't got to a game somewhere.
Did you play?
Tried my best, but was no good.
Childhood hero?
Bob McCarthy, the barnstorming backrower for Souths and Australia. I got into golf early and was a big fan of Jack Nicklaus and then Greg Norman. My bedroom was covered in posters of McCarthy, Nicklaus, Norman ... and Suzi Quatro in her leathers.
Was your golf better than the league career?
I did break par at my local course. My tombstone can read "called a bit of footy, sang in a band, had a role in a little movie, and broke par".
Your commentary career highlight?
Not being corny - but every first-grade game because all I wanted to do as a kid was call footy. The 2000 World Cup at Old Trafford - the theatre of dreams with a crowd of 44,000 - was a highlight.
A low point?
I absolutely hammer myself when I call a player wrong, particularly in a try-scoring play. One instance ... in a semifinal involving North Sydney I had Greg Florimo running up the field and I was going "go Greg you old thing" but it was a player called Nigel Roy. I'd done a great spiel about the old legs carrying Florimo along for 70 metres.
What would you change in your industry and league?
Over here some media personalities believe they are bigger than the game - we've all got tremendous jobs and should quit sniping at each other. The players are the stars and we are just the sideshow. I'd love a much greater emphasis on international rugby league ... the clubs are happy to hand over players for 10-day State of Origin camps yet for test matches the attitude is different.
You were rumoured to have been offered the job of Parramatta CEO ...
The rumours were true. The club gave me a call completely out of left field. I'd never even contemplated a role in administration until then. I had a couple of meetings and threw a whole lot of ideas at them and that pretty much is where we left it.
What about those Warriors?
I have them in my top eight this year, but then again I had them there last year. It is most important they get a good start.
What's your calling technique - do you watch games live or via a monitor?
I mainly ID players with the naked eye or through binoculars although you always have to be conscious of what the viewers are actually looking at. I still pack the binoculars that belonged to my father who died when I was eight. I use a better quality pair for the job but I always feel good to have my dad's binoculars with me.
Drugs, Cronulla, scandals ...
To cover sport these days you've almost got to be a lawyer and a chemist. It is so complicated - some of these drugs are not on the banned list yet nor on the approved list. Essendon AFL players are reported to have injected up to 40 times in a season. It sounds outrageous but maybe that is where sport is going. It is time that everyone got together - the athletes, officials and drug testers.
Summit topics?
Maybe players can take things for injury recovery, but must stop when they are back playing. There is so much to be looked at - I'm not condoning illegal drugs but we need to take a look at the lists. I hope a lot of good comes out of this. Police in New South Wales and Victoria have already said there is not enough evidence to press criminal charges, and there are no charges or infractions for the NRL to act on. This whole thing started with a massive (crime commission) media conference six weeks ago and I'm afraid the cart has come before the horse.
If you weren't a rugby league caller ...
I'd be on a ride-on mower, cutting people's lawns, dreaming about being a rugby league commentator.