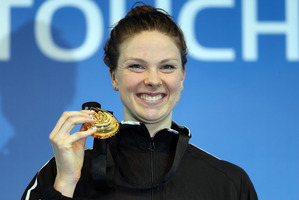 Swimmer Lauren Boyle has been scaling the sport's heights of late.
In December, she stood atop the podium after winning the 800m freestyle final at the Fina World Championship short course in Turkey.
Recently, the 25-year-old went even higher, 2320m to be exact, at the Spanish High Altitude Training Centre in the Sierra Nevada for an exhausting stint of training with a crack Spanish swim group.
Boyle is hoping both experiences will help her to succeed in the State New Zealand Championships that begin at the West Wave Aquatic Centre tomorrow. The event doubles as the official trial for July's Fina World Championships in Spain.
"It was my second time at a high-altitude training camp," said Boyle.
"I spent just over three weeks there. It was a lot of hard work, and I was training with a group of swimmers I had not met before.
I trained with a Spanish club team and it was a lot of fun being around a different group and doing something that I am not used to.
"I think I must be pretty fit because I have been doing a lot of work. That has been coupled with fatigue and tiredness coming from a really long trip from Europe and not really any time for recovery since I got back. So the few days before the championships were important to really rest up and make sure I can go a bit faster in the competition."
Boyle graduated from the University of California, Berkley with a degree in finance as well as a solid swimming programme under US Olympic women's head coach Teri McKeever.
After her return, Boyle made more rapid gains with a silver medal in the Delhi Commonwealth Games relay and four medals, including two golds, at the World University Games.
Her breakthrough came with a fourth placing in the 800m at the London Olympics and then three months later the world championship title at the world short course.
It has been a tough time since, with the turmoil and departure of coach Mark Regan and the rebuild at Swimming New Zealand after a whole-of-sport review.
"It has definitely been very rocky since January and pretty testing for my group up here in Auckland. But as a group I think we have done a really good job to support each other and I am really thankful to have such great teammates and people around me that I can actually rely on every day."
Swimming New Zealand expects a new national coach to be appointed next month.
For now, Boyle is firmly focused on the national championships, with the 400m freestyle and 800m freestyle her main aim.
War in the water
State New Zealand Open Swimming Championships
When: March 17-22
Where: Westwave Aquatic Centre, Auckland
For more information visit: www.swimmingnz.org.nz