Today's 2.6km ocean swim likely to be dominated by Olympian favourites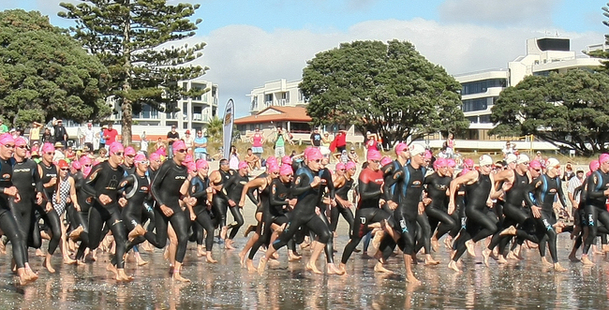 It's reaching the business end of the State Ocean Swim Series.
The six-series event, which began with the Paihia Classic on November 10, has event five - the Sand to Surf today in Mt Maunganui - followed by the King of the Bays on April 6 to decide the 2012-2013 champions.
Rotorua swimmer Kane Radford and Taranaki's Charlotte Webby lead the men's and women's divisions respectively but two experienced Aussies are set to dominate round five.
Ky Hurst and Melissa Gorman, who both represented Australia at last year's London Olympic Games, are expected to be hard to beat in the 2.6km swim.
Gorman (27) started the defence of her series title by comfortably winning the State Le Grande Swim in Akaroa last month, while Hurst started his quest for glory this season by winning the State Harbour Crossing in December.
Both swimmers are heavy favourites to win in Mt Maunganui and, if they do, will put themselves in strong contention for the overall series winner's prize of $20,000.
"I'm much fitter than I was when I won the Harbour Crossing, but nothing changes for me. I expect a tough race," said Hurst.
Nicknamed "Killer", Hurst is a legend in surf lifesaving, winning 28 Australian surf titles and seven Ironman championships.
He is also an outstanding open-water swimmer, finishing fifth in the 2011 World Open Water championships to qualify for the Olympics. At the Games he finished 20th, while he finished 11th in 2008 in Beijing in the 10km race.
He's mixed his ironman racing with open water swimming again this season, but having turned 32 on Monday, he's hinted that age might be starting to catch up.
"My body is starting to feel old some days, but overall my conditioning is still pretty good, and I will be racing hard like I always do," he said.
Hurst's main competition for race honours is expected to be fellow Australians Josh Richardson and Michael Sheil, and Aucklander Phillip Ryan, currently second on the series leaderboard. Series leader Kane Radford is not racing in Mt Maunganui after deciding to swim at the New Zealand Nationals in the pool, starting tomorrow instead.
In the women's race, Gorman's class is expected to shine through again.
Her career achievement to date is winning the world championship 5km title in 2009. She finished 11th in the 10km open-water swim at last year's Olympics and 15th at the Beijing Games.
She is also a two-time Commonwealth Games medallist in the 800m freestyle.
To be eligible for the money, each elite swimmer must compete in a minimum of three of the six rounds.
A hundred points is awarded to each race winner, with double points on offer in the final round, the State King of the Bays in April.
Just the top three performances from each swimmer count in the standings.
The State Sand To Surf is a 2.6km journey which takes the swimmers around both Rabbit Island and Moturiki Island, starting and ending on the main Mt Maunganui beach.
State sand to surf
When: Today
Where: Main Beach Mt Maunganui, Tauranga.
Distance:
* State Ocean Kids 200m 9am
* 'Give It A Go' 300m 9.45am
* 'Step It Up' 1000m 10.30am
* 'I'm Going Long' 2.6km 11.30am
Final event: State King of the Bays, North Shore - Saturday, April 6.
For more information visit: www.oceanswim.co.nz
NZ State Ocean Swim Series - current overall standings (after round four)
Men
1. Kane Radford (Rotorua) 298.28
2. Phillip Ryan (Auckland) 296.53
3. Codie Grimsey (Queensland) 197.89
4. Ben Campbell-MacDonald (Wellington) 195.60
Women
1. Charlotte Webby (New Plymouth) 299.57
2. Cara Baker (Auckland) 198.28
3. Kirsty Wannan (Auckland) 192.74
4. Courtney Carson (Hutt Valley) 190.19