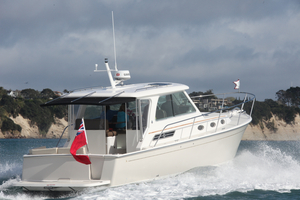 I don't know about you, but when I think of Maine I conjure up images of snow, freezing cold winds and revoltingly rough seas.
The northernmost state on the United States' eastern seaboard, Maine is on the same latitude as Montreal, a city so cold in winter that much of its shopping is done in large underground malls.
You could then reasonably expect a Maine lobster boat to be a sort of nuggety, rounded little battle-horse, quite capable of coping with the wild north Atlantic weather, but possibly not that pretty.
You would be wrong. The first boats to be built in the United States, apart from those of the native Indians, were in Maine, and some 400 years later they know how to build a seaworthy craft - and a good-looking one too.
The Back Cove 34, which recently arrived in these waters, is a good example. The spoon-shaped bow, the graceful sheerline, the hint of tumblehome and the gently reversed transom all reveal its Maine lobster boat heritage.
Yet this is no "stuck in the past" design. The Back Cove 34 also boasts a modern V-hull and roomy and inviting layout.
It is a combination with a wide and growing appeal. Since 2003, Back Cove has built more than 500 boats and sold them to countries as diverse as Greece, Norway, Japan and now Australia and New Zealand.
There are six models in the fleet. Unusually in these bigger-is-always-better times, they range from 26 to just 37 feet (7.9 to 11.3 metres).
It is a deliberate strategy. Back Cove wants to create simple but elegant powerboats that are affordable to both own and run. As a result, they are powered by just a single diesel engine, combined with a bow thruster, and all systems are designed to be simple and efficient.
Perhaps surprisingly for a boat from such cold climes, the Back Cove 34 is also an ideal boat for summer entertaining.
There is plenty of built-in seating in both the deckhouse and cockpit (meaning there is no need to perch on the gunwales or carry folding deckchairs) and, by simply removing the drop covers, the two areas become one giant social centre.
The cockpit is rather more centred on seating than is usual for a Kiwi boat, where fishing normally takes priority. However it is ideal for those whose idea of a perfect day on the water is to spend it relaxing with friends and family.
There is an L-shaped bench seat and a foldaway aft-facing seat for comfortable lounging while under way, or when anchored in a peaceful bay. There is also a removable cockpit table between the two.
For those who want to fish as well, the best option is probably to fit a rod holder-mounted bait station in the transom and fish from the full-width boarding platform.
Although there is a step up from the cockpit to the saloon, there is no solid bulkhead between them. This makes for a seamless transition and, together with overhead hatches, opening side windows and a centre-opening windshield, ensures that the saloon and helm areas are airy and bright.
This area is divided into three zones, with the cherry timber-finished galley and helm to starboard, and the raised dinette to port. The inlaid table is a fine example of the Maine boat-builder's craft and is typical of the quality of work found throughout.
There is a dedicated helm chair and, forward of the dinette, a double mates' seat is a comfortable perch for guests. There is plenty of room at the helm, for multiple MFD units and for the plethora of controls.
As is common on smaller craft, the galley runs fore and aft. Close at hand is the two-burner cooktop and microwave; the fridge-freezer units are beneath the helm and mates' seats.
The Back Cove 34 is essentially a single-cabin boat, but there is provision to sleep up to six in a large, comfortable island berth forward and, a little further aft, a convertible L-shaped settee that can be isolated from the cabin with a curtain.
The saloon table can also drop down to create another doubleberth.
There is just one head (opposite that settee), but it's a generous one with a completely separate shower stall.
The Back Cove 34 has a deep-V hull based on downward-turning chines and long spray rails to give additional lift. Construction is largely resin infusion, with an Airex foam core helping to reduce weight and engine and exhaust noise.
Although standard power is a single Cummins 380hp diesel, the first Back Cove 34 to arrive in New Zealand has been upgraded to the 480hp QSB9. A new QSB 6.7-litre engine (which was not available when this boat was ordered) would also be a good option.
With the 480, the Back Cove 34 cruises at 22 to 24 knots with a top speed of close to 30 knots. For longer-range cruising, the 700-litre tank will safely cover 250 nautical miles at 22 knots and a bit less at 24. At wide open throttle, the range reduces to 188 nautical miles (about three return trips to the Barrier) and, at a more sedate nine knots, it expands to around 380 nautical miles (about three return trips to the Bay of Islands).
Back Cove agent James Purvis has also "Kiwi-fied" the 34 by adding a low-revving Kohler genset (for the electrical appliances) and boosting the water capacity to 380 litres.
Back Cove 34
LOA: 11.45m
Beam: 3.67m
Draft: 0.94m
Displacement (dry): 7.5 tonnes
Construction: GRP
Engine: Cummins QSB 5.9 @ 480hp
Maximum speed: 29.8 knots
Cruising speed: 22-24 knots
Fuel capacity: 700 litres
Water capacity: 380 litres
Base price: $479,000 (approx)
Price as described: $599,000 (approx)