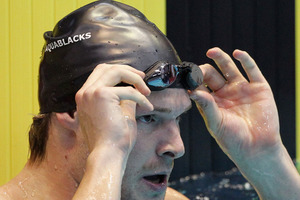 Qualification for July's world championships is the short-term goal at the New Zealand swimming championships starting in Auckland on Sunday. But new high performance director Luis Villanueva's main concern is building a programme that can deliver Commonwealth and Olympic Games success.
The former technical director of the Spanish Swimming Federation has been impressed with the attitude and talent of the country's leading swimmers since taking up his role in January and expects some quick times in Auckland next week.
Eleven of the 16-strong London Olympics team are competing, headed by short course world champion Lauren Boyle, who will focus on the 400m and 800m freestyle events. She has recently returned from a training stint at altitude in Spain with Wellington backstroker Gareth Kean.
Also back is leading breaststroker Glenn Snyders, now based in California under Dave Salo in an international squad as he looks to take his specialist stroke to a new level with Rio in mind.
"The swimmers have responded very well and I am impressed with their attitudes," Villanueva said. "I expect the best from every swimmer, not just at next week's championships, but every day at every training session.
"The standards to qualify for the world championships are demanding but we have many swimmers in this country capable of achieving them.
"From what I have seen already, there is good talent here in New Zealand. We are now building a good environment. "There will be need to be some very hard work put in by all swimmers and there will be many challenges every day if we want to produce finalists and medals at the Olympics, but it is possible.
"The championships next week, I hope, will be the start of something exceptional."
In the last few months following a whole-of-sport review, Swimming New Zealand has a new board, new high performance director in Villanueva and new chief executive with Australian Christian Renford taking up his post last week.
The final key building block is the new national high performance coach which Villanueva hopes to confirm next month, with the Spaniard taking up a direct interest on pool deck in the short term with renowned Australian coach Bill Sweetenham contracted as temporary coach.
The championships also include a strong contingent of athletes with disabilities, headed by three London Paralympians Sophia Pascoe, Mary Fisher and Cameron Leslie.
Schedule for the New Zealand swimming championships at the West Wave Aquatic Centre in Henderson, Auckland.
Day 1 - Sunday 17 March: Women 100 backstroke AWD, men 400m freestyle AWD, women 100m butterfly, men 400m freestyle, women 200m medley, men 50m butterfly, women 400m freestyle, men 100m breaststroke, women 50m breaststroke, men/women 4x200m freestyle relays.
Day 2 - Monday 18 March: Women 50m backstroke AWD, men 50m backstroke AWD, women 100m backstroke, men 200m freestyle, women 100m breaststroke, men 100m backstroke, women 1500m freestyle, men 150. medley AWD, men/women medley relay.
Day 3 - Tuesday 19 March: Women 50m butterfly AWD, men 50m breaststroke, men 200m butterfly, women 200m freestyle, men 800m freestyle, men 200m medley AWD, women 200m medley AWD, men/women 4x100m freestyle relay.
Day 4 - Wednesday 20 March: Men/women 50m freestyle AWD, women 50m breaststroke, men 50m backstroke, women 50m backstroke, men 100m freestyle, women 200m butterfly, men 200m medley, women 50m freestyle, women 800m freestyle, men 100m backstroke AWD, women 400m freestyle AWD, men/women 4x200m freestyle club relay.
Day 5 Thursday 21 March: Women 200m freestyle AWD, men 100m butterfly AWD, women 100m freestyle, men 200m backstroke, women 200m breaststroke, men 200m breaststroke, men 1500m freestyle, women 100m breaststroke AWD, men 100m freestyle AWD, men/women 4x100m medley club relay.
Day 6 - Friday 22 March: Women 100m butterfly AWD, men 50m freestyle, women 50m butterfly, men 100m butterfly, women 200m backstroke, women 400m medley, men 400m medley, men 100m breaststroke AWD, women 100m freestyle AWD, men/women 4x100m freestyle club relay.
- APNZ