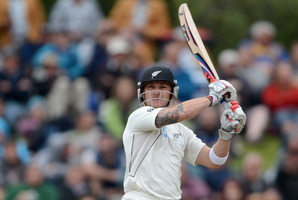 Apologies aren't always necessary, despite what an apologist might think.
A prime example occurred yesterday, courtesy of New Zealand Cricket's Twitter account.
During the usual range of pre-test interviews, New Zealand captain Brendon McCullum was lavishing praise on his English counterpart Alastair Cook.
"He's obviously a genius batsman, his record is testament to that," he said. "Where he is at in his career at the moment, he's as good as anyone who has played the game, probably barring Bradman."
It was a big call, but the bottom line is it was one man's opinion, albeit when put on the spot.
Nevertheless no one could take serious offence, as much as they might disagree should they be, for example, ardent Jacques Kallis or Sachin Tendulkar admirers.
However McCullum wanted to clarify his comments yesterday, lest anyone have taken umbrage: "Apologies if I offended anyone re comments on Alastair Cook.
I didn't articulate it very well."
McCullum went on to explain he was referring to the number of test hundreds (24) Cook, 28, has amassed when mentioning the B name, the most celebrated in the game. Evidently he felt he may have short-changed other stellar batsmen. Cook averages 49 halfway through his 89th test.
"Much respect for all players who've played and performed in this game, esp Sachin/Jacques/Ricky [Ponting] and other greats who've gone before. Cheers," it read.