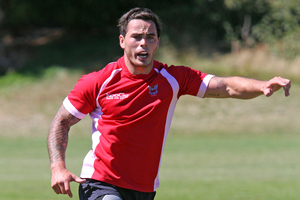 Zac Guildford celebrated his latest reprieve in his fledgling rugby career with chocolate rather than a pint.
The Crusaders wing has been thrown yet another lifeline by the New Zealand Rugby Union and, even up until last night, there was a possibility he would have had his contract torn up.
Guildford met with NZRU officials during the week for a misconduct hearing following his latest alcohol-related misdemeanour when he allegedly assaulted a fellow party-goer in Christchurch at the end of January.
Since then the 10-test All Black has undergone a 28-day stint in rehab and admitted for the first time in his life he is an alcoholic.
It was his honesty that saw him retained by his employer, the NZRU, and he was thankful for another opportunity.
"I went on a bit of a chocolate binge last night; a packet of M&Ms,'' Guildford said. "But I guess the way I'll celebrate is getting back down to my brothers at the Crusaders
tomorrow and really get back into training and connecting with a few friends down there that I haven't seen for a while and build on those relationships.''
Guildford's career has been littered with booze-related indiscretions, including a now infamous display in a Rarotonga bar when he turned up drunk and naked and allegedly assaulted a patron.
NZRU general manager of professional rugby Neil Sorensen said he finally felt Guildford was ready to confront his problems.
"I think the key thing that we've seen is that for the first time since we've been dealing with this young man that he's finally being honest with us and honest with himself and honest with his mates,'' Sorensen said.
"We were at this stage 14 months ago post-Rarotonga but we didn't get there. But the difference really is that Zac said, 'look, I'm actually an alcoholic'. And all the medical information and experts have said this kid's an alcoholic, this kid's got a mental illness and Zac's accepted that and over the last two days it didn't really matter what submissions were put forward. When this young man spoke about himself and in brutal honesty it wasn't a hard decision to make.''
Sorensen said the latest reprieve wasn't Guildford's last chance and they would keep monitoring him.
"I think we've proven that we deal with every incident on its merits.''
In an open and honest press conference at the new NZRU offices today, Guildford fielded numerous questions about his battle with the bottle and answered each of them thoughtfully.
The 24-year-old, who first played for Hawkes Bay in 2007 when 18, said his addiction to the drink hadn't been brought about by the fishbowl lifestyle All Blacks can be subjected to.
"Nah, I don't think it was ever part of the pressure. It was just part of who I was growing up. We all did it and I was just one of those ones who can't handle it.''
He said his time in rehab, believed to be at the exclusive Ahuru Recovery Retreat near Ohakune, was revealing and he thanked New Zealand Rugby Players Association boss Rob Nichol and his agent Simon Porter for their efforts.
"I went there thinking I knew it all but I didn't and that's where I got out of the denial stage and started accepting who I am and realising that I can't do what I have been doing in past. And with the help of Rob and Simon I've got there and it's probably the best thing that I've done so far for myself.''
Guildford said he didn't have any desire to drink alcohol in the future in any capacity.
"I don't plan to but I can only make that decision one day at a time and that's the easiest process for me. But I don't see it in my future.''
He might have to make do with a few bags of M&Ms, instead.
- APNZ