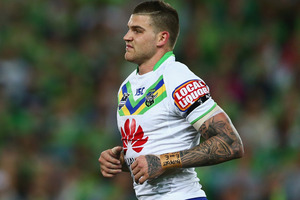 A Josh Dugan no-show at a Canberra board meeting on Thursday is set to be the troubled fullback's final act as a Raiders player.
Dugan has been asked to front the Canberra board to explain numerous breaches of the club's code of conduct - but the Raiders admit they are not even sure he will turn up.
Dugan has missed every training session since the Raiders' disappointing round one loss to Penrith on Sunday and was again a no-show at field and weight sessions on Wednesday as it appears increasingly likely the club will sack the former NSW star.
Amid reports of a heated confrontation with coach David Furner and increasing disquiet amongst his fellow players over his poor attitude and repeated transgressions, Dugan looks to have backed the Canberra board into a corner.
A Raiders board meeting had been previously scheduled with the future of Dugan now top of its agenda.
Dugan and his manager Paul Sutton have been asked to attend the meeting but the duo have not informed the club as to whether they will be there.
"We haven't heard from them, there has been no indication they will be coming," a Raiders official told AAP.
If Dugan does not attend the Raiders would have little alternative but to terminate his contract.
The matter was brought to a head after Dugan was caught drinking with teammate Blake Ferguson after posting pictures of themselves on a social networking site.
According to the Raiders code of conduct injured players are prohibited from drinking. Dugan suffered rib cartilage damage in a lacklustre effort against the Panthers in what may be his final game for the club.
Both Dugan and Ferguson have been omitted from the Canberra side for Sunday's match against the Gold Coast.
Dugan took to Twitter on Tuesday in an attempt to explain himself.
"This goes beyond the drinking while injured. Yes I've broken team rules but for me it goes deeper and I plan on sorting it out," he wrote.
"I apologise to my team mates and the fans but this is personal and needs to be sorted out as soon as possible for me to move forward."
St George Illawarra and French rugby union have been identified as possible landing places for Dugan if he is let go by the Raiders.
- AAP