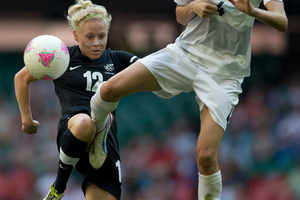 Two goals in the final two minutes has handed New Zealand's Football Ferns a dramatic come from behind 2-1 win over Switzerland and third place at the Cyprus Cup.
Betsy Hassett equalised in the 88th minute and Hannah Wilkinson scored the winner a minute later to round out a successful campaign for Tony Readings' side, although the Football Ferns coach was disappointed with the way his side started.
"We were poor in the first half, it was a below-par performance without the intensity we had in our first three matches and we deserved to be behind at halftime," Readings said.
New Zealand were restricted to a handful of half chances while Switzerland scored a back post volley in the 23rd minute after earlier missing a penalty in the first half.
Football Ferns custodian Rebecca Rolls brought down a Swiss striker and Readings admitted he was relieved that his goalkeeper was not sent off.
"I've seen 'keepers go for that kind of offence before, and when the referee went to her pocket I was worried."
Rolls was recalled in goal and Readings gave maiden tournament starts to youngsters Katie Bowen and Holly Patterson, while Helen Collins came in for Wilkinson.
"We spoke at halftime about why we were behind and it wasn't tactical or technical but it was our attitude."
Readings made three changes at the interval with Ria Percival returning from injury and game changers Hassett and Wilkinson entering the fray, with Rosie White also coming on with 20 minutes to play.
"They dropped off to defend their lead and got players behind the ball so it was hard to break them down and create chances," said Readings.
With a couple of minutes remaining Hassett drove through the heart of the Swiss defence and lashed home from the edge of the box. The Football Ferns then snatched victory a minute later after a heavy Rosie White challenge on the 'keeper allowed Wilkinson tapped home unopposed.
Readings was pleased with the win over Switzerland, especially coming from a goal down but hoped his side would take the positives from the Cyprus Cup experience.
"We've adopted a new style of play and been able to win more matches at this tournament than ever before which is pleasing.
"More importantly, we learned that we can't pick and choose when we play with intensity and we paid the price for that in today's first half," Readings said.
The Football Ferns will now return to their respective clubs before coming together at the end of May prior to a glamour fixture with world champions Japan on June 20.
New Zealand 2 (Betsy Hassett 88'; Hannah Wilkinson 89')
Switzerland 1
Halftime: 0-1