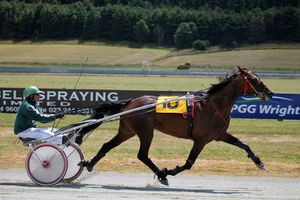 Trainer Alan Clark hopes The Fiery Ginga can bring his training form into the big time tomorrow night when he lines up in the Australasian Trotting Grand Prix at Melton.
The son of CR Commando has strung together two fourths in his Australian campaign: the group one Australasian Challenge in Sydney on March 3 and the group one The Knight Pistol at Melton last week.
"He drew the second row [last week] where they went a 1:55 mile rate over 1720m and he sat parked for the last lap," Clark said.
"I was a wee bit disappointed he didn't kick on better."
Clark and his star trotter are based at Noel Shinn's property near Kilmore, where the winner of 24 races has been burning up Shinn's 740m training track.
"If he was to run the last half [800m] as sensationally as he has here, he'll blow them away," Clark said.
"He ran a lap in 50 seconds here, and there are only a couple of pacers on Noel's track to run 50 seconds."
The Fiery Ginga is yet to turn track times into race times on this trip, though, and Clark is struggling to put a finger on it.
"It might be a mental thing - he's not kicking as hard in the straight as he should," he said.
"We'll try different tactics - I'll try to run them along and take the sting out of them.
"You've still got to be at the top of your game to beat them."
The barrier draws have once again fallen the way of the Mosgiel pair, with The Fiery Ginga leaving the mobile from barrier one, and that has convinced Clark to hold the lead tomorrow night.
"He's gone his best races at home when he's poured the speed on, and only the good ones can run past him."