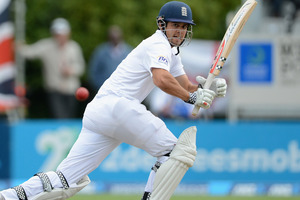 Any comparisons between Alastair Cook and Brendon McCullum should probably end with the fact they hold the test captaincy position for their respective countries.
Cook is a classical left-hand batsman who has amassed 7243 runs in 88 test appearances at an alarmingly consistent rate. McCullum is the brash right-hander who can destroy a bowling attack in a few overs with his raw aggression.
Cook opens the batting and won't float up and down the order and McCullum has opened since giving up the wicketkeeping gloves but couldn't find the consistency required for the position and now slots in at No 5 or 6.
With the second test between the sides set to start at the Basin Reserve tomorrow (thur), both skippers gave their traditional pre-game press conference today and like their batting, the pair were worlds apart.
McCullum spoke to the media first and came out on the front foot and announced he would carry the same playing XI from the first test in to tomorrow's match.
He also said he would bowl first if he won the toss.
Cook on the other hand politely declined to divulge too many details about his plans when asked by a television journalist if he would bat first should he win the toss.
"I don't know yet and I probably wouldn't be telling you if I knew what I was going to do,'' the 28-year-old said.
Earlier in the day McCullum praised Cook's "genius'' with the bat - the Englishman has scored 24 test centuries and has a career average of 49.60 - and said his wicket would be crucial after Cook made 116 in the second innings of the drawn first test in Dunedin last week.
"I thought we bowled reasonably well to Cookie the other day, obviously he's a genius batsman, his record is testament to that and where he's at in his career at the moment is as good as anyone who has played the game, probably barring [Sir Donald] Bradman,'' McCullum said. "He's enjoying the captaincy as well and leading from the front.''
It appeared the respect was mutual though.
"Look at what you can say about his genius batting with the way he hits the ball sometimes,'' Cook said of McCullum. "So it's nice for him to say that.''
Cook should find the Basin Reserve wicket to his liking this week with less pace and bounce expected than in previous years it could flatten out as the test wears on.
This game looms as crucial in the three-match series as victory would give one side the upper hand ahead of next week's final encounter in Auckland.
The bookies don't appear to have a lot of interest in a New Zealand win this week with the TAB offering a $7 quote for a Black Caps win, while England are paying $1.67 with the draw at $2.80.
- APNZ