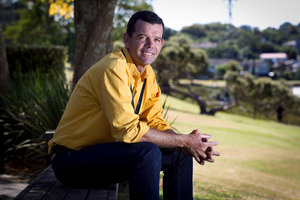 Being organised and motivated are the key planks for athletes striving for Olympic Games success, according to someone who should know.
Brazilian sailing legend Torben Grael believes the last of his five Olympic Games medals was his most satisfying.
It came in Athens, in 2004, and that satisfaction is derived only in part from it being the home of the modern Games. His Olympic haul had begun with a silver in the now-defunct Soling class in 1984. Bronze, gold, bronze and gold followed in the Star class, broken only by finishing 11th in 1992 in Barcelona.
"It was by far my best campaign, with a lot of attention to detail," Grael said of Athens yesterday.
And that is one of the messages he's imparting to a seminar organised by High Performance Sport New Zealand, running over two days in Auckland.
The focus for the assembly of athletes, coaches, high-performance directors and chief executives is on both looking back at London, and casting eyes ahead to the Rio Games of 2016.
Grael, one of Brazil's most decorated athletes, considers Athens "so special for me", only partly because of being flagholder in the opening ceremony.
All the boxes had been ticked in the leadup, including winning the pre-Games regatta so by the time he and partner Marcelo Ferreira got to the final race of the Games regatta they'd already sealed the gold.
"They are very organised over here, a lot more than we are in my country," he said of the amount of Games planning done by New Zealand administrators.
"That will definitely help new campaigns."
And as for the other most important element in building on success already attained, call it personal motivation.
"It depends on how competitive you think you are going to be and the goals you put for yourself," he said.
"You have to have the drive to do it. If you are there just because you are keeping going but not quite sure why, I don't think it's going to work.
"My first Olympic gold didn't come in my first campaign. When I finally got it I already had two medals. Then Marcelo and I were quite motivated to try and go for a second gold."
Barcelona in 1992 provided the stark contrast.
He arrived with limited preparation and discovered Barcelona's light airs weren't to his liking. "We had the wrong equipment, so it was not a very well-planned campaign. There were a lot of holes in it," Grael said.
So the message he's imparting in Auckland: be prepared, collectively and individually.