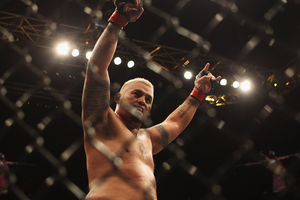 Kiwi mixed martial arts fighter Mark Hunt could be one knockout blow away from a world title showdown after it was confirmed overnight that he will square off against Junior dos Santos at UFC 160 in Las Vegas on May 25.
Hunt has been summoned as the replacement for an injured Alistair Overeem who has withdrawn from his fight with dos Santos - the world's No 2 ranked heavyweight - due to a quadriceps injury.
A phone call between UFC president Dana White and Hunt on Friday (NZT) sealed the deal after speculation during the week that Hunt initially turned the fight down.
The 38-year-old Hunt, who has a 4-1 record in the UFC and a 9-7 career record in MMA, will go in to the bout on the back of a four-fight winning streak, including an impressive UFC TKO victory over Dutch giant Stefan Struve in Japan last weekend.
Hunt's long-time trainer Steve Oliver said the fight was a good match-up for the man who is known as the `Super Samoan'.
"I think it's a great fight for Mark. I was more worried with the Struve fight than this fight to be honest,'' Oliver told APNZ.
"Just with Struve being seven feet tall it's hard to get inside that and he was very dangerous.
"It's been a long time coming and it's epic. Mark's already taken a world K1 title and he fought for the Pride [MMA] world title and narrowly lost that and potentially if he wins this he's fighting for the UFC title. It's a big one.''
UFC heavyweight champion Cain Velasquez will fight Brazilian Antonio Silva at UFC 160 that will be hosted at the MGM Grand Garden Arena and if Hunt was to beat dos Santos a date with the reigning heavyweight champion could be on the cards in the future.
Both Hunt and dos Santos like to keep on their feet in the cage and brawl but Oliver said that could bring dos Santos' downfall.
"If he makes the mistake of trying to bang with Mark it could end badly for him. I mean it's a coin toss at that weight and that level.''
Hunt, who is based in Sydney, will return to New Zealand during the next week to begin a training camp with Oliver and his team as he builds towards the fight.
Standing 1.78m and weighing 120kgs, Hunt has more than 40 kickboxing fights to his name and has climbed in the ring twice for professional boxing bouts.
"He's a special kind of man,'' Oliver said. "He's just mentally tough. He's been there a million times before and the big occasions don't overawe him at all. He takes it in his stride.''
- APNZ