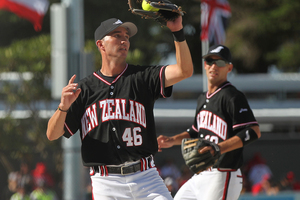 New Zealand 4
Venezuela 1
New Zealand have won a record sixth world softball championship after another masterful pitching performance from Jeremy Manley shut down Venezuela in today's final.
The Black Sox claimed their first title since 2004 by beating the South Americans 4-1 at Rosedale Park in Albany, with Manley tossing his second straight complete game.
Captain Rhys Casley came up with the big hit, a three-run home run in the third, while catcher Patrick Shannon also homered.
"It's pretty surreal at the moment," Casley said. "It hasn't really sunk in - I think it will take a couple of weeks - but I'm just really proud of the guys, the way they hung in there all week."
For New Zealand, their fourth championship in the last five events made up for the disappointment of losing to Australia in the final of the previous edition, while Venezuela can console themselves with their country's first medal at a world championship.
Pitching was a question mark for coach Eddie Kohlhase's team heading into the tournament, exemplified by Manley's struggles with a knee recovering from surgery.
Snow at his Illinois base prevented the pitcher from working outside until he got to New Zealand, but his form this week has been vintage.
After impressing in relief against Australia in Friday's first playoff game, Manley battled a severe bout of food poisoning to toss seven innings without allowing a run yesterday against Venezuela as his side advanced to the tournament showpiece.
The South Americans - playing in the memory of late president Hugo Chavez - set up the rematch by upsetting Australia in this morning's bronze medal match, before Manley ensured history repeated with another commanding performance.
After allowing a run in the first, Manley settled down and struck out six Venezuelan batters while allowing just four hits.
"Jeremy pitched a hell of a game for us and kept us in it," Casley said. "And we had 17 other guys in there as well that kept pushing us through."
The Black Sox bats went to work on overhauling the early deficit in the bottom half of the first, with singles from Tyson Byrne and Brad Rona putting two men on with one out. But Donny Hale grounded out and, after a pitching change, Rhys Casley struck out to end the inning.
Manley looked to have worked into a groove in the second and retired the side in order, before the Black Sox levelled the game. Ben Enoka's single was erased when Thomas Makea grounded into a double play, but Shannon then hit a two-out shot over the right field fence to make it 1-1.
Venezuela made another pitching change in the third, bringing in yesterday's starter Ramon Jones who, after much posturing, promptly threw at Rona and appeared unrepentant as the Kiwi made his way down to first fixed with a glare.
The pitcher came to regret his lack of command when, after Daniel Milne worked a walk, Casley made amends for his earlier strikeout by jacking a two-out three-run homer to centre field to make it 4-1.
The captain also drove in a vital second run against Venezeula yesterday, making his mark on a tournament he was in danger of missing. A persistent shoulder injury has seen his play restricted throughout the week, and he has seen very limited time in the field, but he stepped up today to all but clinch the championship.
Casley said the hit made up for all the weeks of rehab, even if he wasn't looking to make such a defining contribution when at the plate.
"It was certainly nice. I wasn't looking to hit a home run - I was just looking to make solid contact after I struck out the first time. I was just happy to put good wood on the bat and get one out."
Nathan Nukunuku was inches away from making the result certain the following inning, with his deep fly ball caught at the fence, but Manley was pitching like a three-run lead would be more than enough.
And so it proved, with Manley tossing a perfect seventh to spark wild celebrations on the mound.
- APNZ