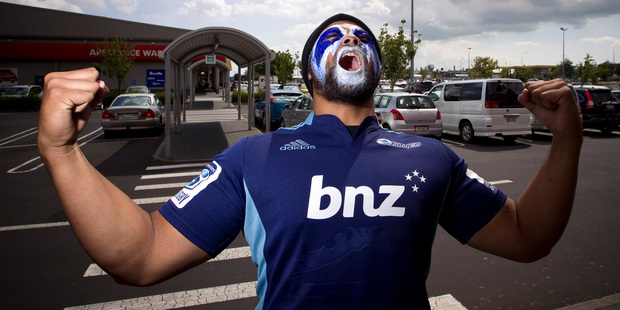 The Blues' No1 superfan can hold his head high again.
For the past two seasons Benjamin Lama has listened to opposing supporters taunt him with the cruel chant of "Blues lose" at almost every match.
He has watched in dismay as fellow fans have thrown their tops and scarves in the gutter after yet another miserable defeat.
Even his long-suffering girlfriend added to his misery by demanding to know why he spent so much time with losers instead of her.
But Benjamin is on the bounce. His crazy blue and white face paint is once again worn with pride.
The rejuvenated Auckland side has won two games on the trot and are suddenly looking like world-beaters following the arrival of new coach Sir John Kirwan.
"The past couple of years have been misery and the stick I've taken from mates for supporting the team has been painful," Lama told the Herald on Sunday.
"I wasn't expecting us to do much better this year but I couldn't have been more wrong."
Lama, 23, from Manukau, presently sits at the top of the 'fan ladder' on the Blues website because of the number of internet followers he attracts.
The Air New Zealand baggage handler insists he was born to support the team and hasn't missed a home match since 2007.
His colourful outfits used to attract the wrong kind of attention. TV cameras would seek him out and sadistically show his obvious despair to viewers when his hapless side suffered yet another loss.
"They are seeing a different side to me now," Lama grinned. "We are playing so well that I have been screaming my head off at Eden Park.
"One time I was yelling so hard I actually fainted. I was out cold for a good few seconds."
Kirwan has breathed new life into the toiling team and is trying to motivate the players to a 10-out-of-10 start to the Super Rugby season.
The Blues take on the Bulls at home this afternoon. Lama insists he is gearing up for another
victory celebration.
"I don't know what Sir John has done to the players' heads but they have a different mind-set and look like a mean outfit. We could even go on to win the competition," he added.