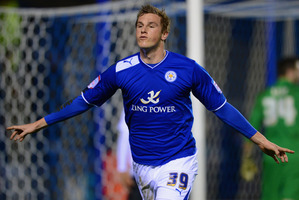 Chris Wood feels he is ready for the Premier League and on his recent form, it might be difficult to find many doubters.
The New Zealander has been one of the form strikers in the second tier of English football over the past season, especially since his transfer to Leicester City at the turn of the year.
The Championship is one of the most competitive leagues in world football but, heading into this weekend's round, the Foxes are well placed in fifth with a game in hand on three of the teams above them.
Wood has appeared in the Premier League before - as a raw 17-year-old, he made a couple of appearances off the bench for West Bromwich Albion in 2009 - but much has changed since then.
"I feel like if I keep going and progressing the way I am, I will be ready for [the Premier League]," Wood told the Herald on Sunday. "Hopefully that will be next season and I can make the step up and the transition into the league."
It remains a huge step. Wood's current team-mate David Nugent was a star in the Championship earlier this decade, good enough to represent England while at Preston North End in 2007 (the first non-top flight outfielder to be picked for England since 1999) but he struggled to make an impact in the Premier League. Similarly, Sylvan Ebanks-Blake was top scorer in the Championship in consecutive seasons, lifting Wolves into the Premier League, but couldn't reproduce the same form among the elite.
"When you have your chances, you have to take them in the Premier League," notes Wood of the difference between the two divisions. "You only get one, maybe two chances a game in the Premier League, where in the Championship, you might get three or four. You have to be a lot more clinical."
Wood's achievements in recent years have been astonishing. He was rated by several English experts as the best pound-for-pound transfer during the January window, when Leicester paid West Brom £2 million ($3.6 million) for his services, three weeks after his 21st birthday.
Wood has already scored nine goals in just 11 games for the Blues, including two goals on debut and a first-half hat-trick against Bristol City in January. Before that, he had spent time at five clubs on loan from West Brom. Having to prove your worth and adapt to systems and strategies instantly is challenging as a loan player but Wood delivered almost without fail.
After a brief fruitless spell at Barnsley (no goals from four league starts) his career took off with Brighton, scoring eight goals in 22 starts as the Seagulls soared to the League One title. The good times continued at Birmingham (nine in 13), Bristol City (three in 12) and most recently 11 goals in 18 starts for Millwall.
Aside from the statistics, there were moments that stood out. One was a late season game for Bristol City against Nottingham Forest, with both sides facing the threat of relegation. Bristol earned a penalty late in the game - a season changer - and despite the presence of many seasoned professionals, the ball was handed to the teenage striker on loan, who duly converted for a vital win. His perfect hat-trick - left foot, right foot, header - for Birmingham against Millwall was memorable, as was a Europa League goal for the Blues, the first in Europe by a Kiwi since Wynton Rufer.
"I think every year, I've developed more," says Wood. "Each different manager has brought my game on in different areas. All those loan spells have helped out in different ways and it has made me a better player - I have come a long way in the last three or four years. Hopefully I have a lot more to progress and achieve."
Goals are the ultimate currency in football; when you score regularly, everybody notices.
"I think Chris has shown what we have been missing," said Leicester manager Nigel Pearson last month. "He is a big factor in our form. We have continued to create a lot chances but we are putting them away at the minute. We needed something different in attack and he gives us that; he is doing what we hoped he would do."
Wood was consistently in a queue behind five or six other strikers at West Brom and realised "a few months" before the January window that it was time to move on.
"It was my time to find a club that I could call my own and my home," says Wood. "It is nice to put some roots down in Leicester and establish myself there."
Though often overshadowed by midland rivals Nottingham Forest and Derby County, Leicester have been a consistent performer down the years, spending only one year outside the top two divisions since 1884. They have won the League Cup three times, been FA Cup final runners-up four times and former players include Gordon Banks, Peter Shilton and Gary Lineker.
Wood enjoys life in the one-team city (population 330,000) and has settled quickly, helped by his early goal-scoring run. He has struck up a good combination with Nugent, describing it as a privilege to play with the former England player.
"We have got a combination going now," says Wood. "Sometimes it just clicks and sometimes it never clicks. Thankfully it has worked out well with David."
He has started following the Leicester Tigers rugby team while his girlfriend has piqued an interest in league: "It looks like Leeds Rhinos will be the team I'm forced to watch."
Leicester hosted Sheffield Wednesday overnight before a "massive game" at league leaders Cardiff next week.
"On any day, anyone can beat anyone in this division," says Wood. "I would much rather go up automatically [by finishing in the top two places] - let's be honest. But being in the playoff final would be an interesting experience. Winston [Reid] has done it already so it would be great to follow in his footsteps."
Wood returns home this month for the crucial World Cup qualifier against New Caledonia on March 22, which should determine the Oceania winner.
"Hopefully we can do the business in the first game and get the job done," says Wood. "Then maybe we can blood some youngsters in the second match."
The fact a 21-year-old is referring to 'youngsters' illustrates how far he has come, though there is still much to do.
"It's still early in my career and I know I have a lot more to give and a lot more to achieve in my career," says Wood. "Sometimes I sit back and reflect on what I have done but I also have dreams and ambitions for the future. Hopefully I can keep progressing and become a big name like Ryan [Nelsen], Winston [Reid], Wynton Rufer and all those players that have done it in the past."