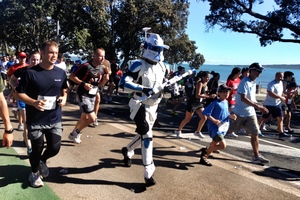 Around 40,000 people are signed up for this morning's Round the Bays run on east Auckland's waterfront.
Event spokeswoman Nicola Igusa says a chunk of the registration fee goes to charity, so every sign-up is a bonus.
"One of the charities we're supporting this year is actually getting almost the same amount of money pledged from runners running in support of their organisation, as we've pledged to give them as a donation.
"It's fantastic to see people getting behind it."
Nicole Igusa says around 25,000 people actually turn up on the day and she hopes the good weather will push the number higher this year.