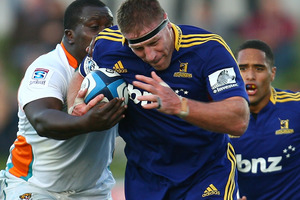 Highlanders19
Cheetahs36
If the Highlanders really are potential champions, then they are doing a classic job in lulling all the other contenders into a false sense of security.
Second game, second loss - and more worrying for them was the way they capitulated in the first half and dug a hole for themselves from which they were never likely to escape.
This time last year the Highlanders were on the charge - the talk of the competition.
They have strengthened their squad, yet appear to have regressed. They never looked like winning last night. The intensity, accuracy and creativity required was never there.
They looked like a side that knew they should be winning, playing better, but didn't have any knowledge how to do that. Error-ridden, sluggish and disjointed - the Highlanders were all the things they hoped they had left behind.
And they were made to pay by the Cheetahs - a side whose results give entirely the wrong impression.
They don't win much but that doesn't mean they are not a talented outfit that present multiple problems for opponents. They have been one of Super Rugby's great improvers in the last few years - at least in terms of consistency of performance and endeavour.
They have willing ball carriers as the Highlanders discovered. They have a set-piece that benefits from the coaching input of former Springbok Os du Randt - as the Highlanders discovered and a willingness to play on the counter attack and trust their skills - as the Highlanders discovered.
The Cheetahs, again as the Highlanders discovered, are a side that just need a sniff of encouragement - a little help in building momentum and they are off. They actually received a more then generous hand from the Highlanders, most especially from Lima Sopoaga who had a horror five minutes where he coughed up 14 points with two poor decisions that were compounded by bad execution.
He tried to chip over the top of Robert Ebersohn when it was never on and that led to an intercept under the sticks and then he replicated his mistake barely two minutes later.
That was enough as far as coach Jamie Joseph was concerned. He put Sopoaga out of his misery on 37 minutes and injected Colin Slade into battle. His first touch was to throw a loopy pass straight to a white jersey and he was rather fortunate it was spilled, otherwise the whole shooting match would have been over.
The Cheetahs did their part in unsettling the Highlanders: they held their defensive structure and hit the ball carrier with two tacklers that slowed possession. They also read the breakdown well where they didn't over-commit in terms of numbers and their scrum and lineout were healthy.
And in Sarel Pretorius they had the most creative spark on the field. Strange that he didn't fire for the Waratahs last year as he can play; he ran and ran and controlled the tempo and attacking patterns, having a hand in all three tries that enabled the Cheetahs to reach the break 30-7 ahead.
But even considering the work of the Cheetahs, the Highlanders would have to be considered culpable in creating their predicament.
Joe Wheeler missed a simple tackle in the build-up to Pretorius' first try and in between Sopoaga's mistakes, there was a general lack of discipline and accuracy in much of what the Highlanders did.
They were careless when in possession - casual with some of their handling and guilty of not staying on their feet at the collisions. Brad Thorn appeared to be on a mission to impose himself by any means possible. He was a bit wild and liberal with his pointy bits when he hit collisions - almost as if he didn't care how he made his presence felt as long as he made it felt.
The Highlanders did manage to find some composure and stability in the second half when they were chasing the game - but not enough and not for prolonged periods with the exception of Kade Poki, who claimed a hat-trick of tries.
Highlanders 19 (K. Poki 3 tries; L. Sopoaga con; C. Slade con), Cheetahs 36 (S. Pretorius 2, R, Ebersohn tries; R. Goosen 5 pens, 3 cons).