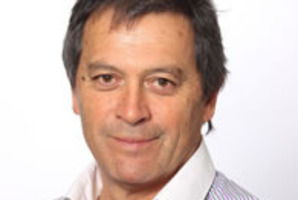 Yesterday marked a year since the controversy which threatened to see the Decision Review System withdrawn from the first test between New Zealand and South Africa in Dunedin.
Little has changed to improve the situation.
At the time, Ian Taylor, creator of the Virtual Eye ball-tracking system, responded to claims cricketers didn't trust his company's technology by suggesting it be scrapped.
Taylor, the founder of Animated Research Ltd, which sells its services to Sky Television, was forced to act after quizzical comments from New Zealand's Doug Bracewell and South Africa's Jacques Kallis when Jacques Rudolph had an lbw decision reversed by review.
Taylor is still waiting to see the International Cricket Council take more responsibility over implementing his system.
He wants to see the ICC invest rather than piggy-backing off television networks.
Taylor raised his concerns at a meeting of the Marylebone Cricket Club world cricket committee last month in Auckland. The committee meets twice a year and comprises former players, officials, administrators and journalists.
New Zealand great Martin Crowe was present, as was ICC chief executive Dave Richardson.
"Putting aside the issue of who pays, the DRS needs to be an ICC responsibility. They need to have a mandate on how it is used like [football's] Fifa or America's Cup organisers," Taylor says.
"A year on nothing has improved. Cricket must be the only sport where the governing body entrusts the technology decisions in a match directly to a private company.
"The same applies for hot spot owner Warren Brennan. He owns and operates US military grade cameras, which I understand are valued in excess of $250,000, but the ICC has not provided him with any sort of financial plan to guarantee his investment."
Taylor's also concerned his employees have too much sway deciding reviews rather than the third umpire.
"We need a situation where the third umpires upskill to use the technology and make decisions fast, say within 15-20 seconds. The only question they need to ask is: would I have made a different decision to the on-field umpires, yes or no? A test umpire might not necessarily be the best person for the job.
"Our responsibility should solely be providing the data to the third umpire, not making a direct decision. We also need to decide where it's best for the third umpire to sit. They'd probably be better off sitting with us in the trucks so they've got everything they need at close hand."