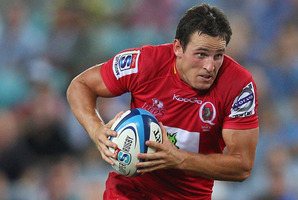 Presented as the land of opportunity, Australia is beginning to look more like a career-killer for those Kiwis who feel they can't strike a fair deal in New Zealand.
Mike Harris, the former New Zealand under-20 player who was rejected by the Blues only to become a Wallaby 18 months later, is very much the exception rather than the rule. The more common outcome for those peripheral Kiwis who have jumped the Tasman in search of a better rugby life is that they regress - become a product of their comparatively mediocre environments.
Other than Harris, it's hard to think of another Kiwi professional or semi-professional who has advanced their cause by shifting to Australia. Tom Chamberlain was an exciting openside prospect at the Blues - shifted to the Rebels in 2012 and hasn't been seen since. He's now playing in Japan.
James King was being touted as a possible All Black lock in 2009. Rangy, skilled and supremely athletic, the North Harbour man was beset by injury after he made such a favourable impression in his rookie ITM Cup campaign.
He managed only four games for the Blues in 2011 before signing with the Rebels where he's yet to play.
Winston Stanley has become wallpaper at the Force - the province he joined in 2012. He is a former IRB world junior player of the year nominee. Who would be able to deduce that pedigree from watching him play for the Force?
No doubt Jayden Hayward, an ITM Cup sensation, will go the same way now he's signed with the Force and it's an almost cast-iron guarantee that Alby Mathewson won't be adding to his four All Black caps. He's at the Force for this season and it's hard to believe that any Kiwi franchise - given the quality of halfback resources available domestically - will be keen to bring him home.
Australia has the ability to make young Kiwis richer and offer them game-time, but really, it's a graveyard: a fool's paradise perhaps. It's not the place to go if the intention is to return to New Zealand and prove everyone wrong.
Other than Harris, no one has had the joy of proving they were good enough to hack it here all along.
Take two of the latest departures - Scott Fuglistaller and Jason Woodward. Neither were wanted by the Hurricanes after solid, possibly even impressive ITM campaigns with Wellington.
The Rebels swooped, offered decent money and more importantly, the prospect of actually being on the field; the chance to feature in Super Rugby.
Tempting indeed and hard to turn down and no doubt, right now, the thrill of building a new life in a new country - of being fully-paid professionals and living the dream will convince them they have done the right thing.
But how will they feel in two years? The evidence of each weekend suggests unequivocally that the New Zealand franchises build better players than the Australians. Results speak for themselves - rugby life here is tougher, more intense; the skills have to be sharper, the understanding that bit greater and the commitment that little bit extra.
Australian franchises provide game-time but not the same level of development and perhaps the time has come for those who are approached about shifting to Australia to question whether they really will be better off taking the offer.
The evidence so far throws that into doubt and those in too big a rush to care should remember that patience has often been rewarded in New Zealand. Jarrad Hoeata didn't nail regular Super Rugby until he was in his mid-20s. Frank Halai turned 25 this week - a few days before playing just his third Super Rugby game. Andrew Horrell has become invaluable to the Chiefs yet so easily could have gone offshore after a few years of Super Rugby rejection.