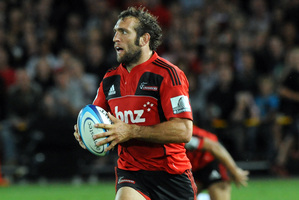 It looks to me like there is something missing within the Crusaders at the moment. I don't know what it is, but they look flat; they just don't have much spark about them. That's a bit odd. The season is only two games old.
Come May, or July, fair enough, you could maybe understand that a team could be looking a bit flat then ... but two games in? What would be troubling me most if I were coaching them, is that it is not obvious from where that spark is going to come. It's not as if there is a raft of injuries - a whole army of better players waiting to return.
Returning to Christchurch will no doubt be helpful. Well, actually, it is going to have to be. There isn't really an option on that now: the Crusaders need to start winning games soon.
Many people, inside and outside the camp, say that the opening two weeks have been a blip.
Get the Crusaders home to Christchurch, read them the riot act and watch them bounce back the way they always do.
But there must be some doubts creeping in this year. A couple of things about the loss to the Hurricanes were a little hard to equate with the Crusaders of old.
Midway through the second half they were pulling away. They had the game under control and were one score from nailing the coffin. The thing about Crusaders teams of old, what has made them seven-times champions, is that they have been ruthless when they have smelt blood. Historically, they haven't let teams wriggle free when they have been in the death throes.
But in Wellington, Kieran Read knocked on at the base of a ruck - just a careless little moment that denied Matt Todd's try. Probably what concerns more is that the Crusaders were willing to take risks, big risks as it turned out, when they held just a six-point lead with 10 minutes to go. They needed to be tight, together and playing deep in Hurricanes territory forcing them to take risks.
All last year the Hurricanes showed they are a side that don't give up; they have the ability to hang in there and score opportunistic tries from deep. The Crusaders must have realised that and yet didn't play the right style to keep the pressure on and get over the line.
Adam Whitelock fired a long pass that was needless. Alapati Leiua knew the equation was stacked in his favour: go for the intercept and possibly win the game or miss it and see the Crusaders win by a bigger margin than they already were going to?
Of course he went for it and he got it right.
Hurricanes hookers Dane Coles and Motu Matu'u will know early this week whether they are available for selection. Coles has had his ankle X-rayed, which was clear, but is no certainty to be fit. Matu'u came off against the Crusaders with damaged ribs that are not broken, but he is sore.