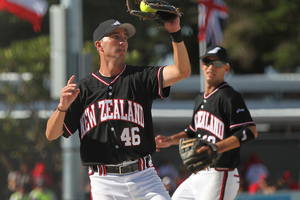 New Zealand 2
Venezuela 0
New Zealand are one win away from a record sixth world softball championship after a heroic effort from Jeremy Manley clinched a spot in tomorrow's final.
The starting pitcher threw a complete game shut-out in today's 2-0 win over Venezuela before revealing he was seriously hampered by a bout of food poisoning.
Manley impressed in relief in the Black Sox' epic win against Australia on Friday night before being laid low by some dodgy chicken. He spent most of last night and much of the morning throwing up but still managed to take the hill and toss seven sparkling innings.
"I should pitch ill more often,'' he quipped. "I'm staying away from [chicken] for a while and sticking to red meats.
"It's been a long night. It was starting to subside by then end and I finally got rid of it around midday today. [I didn't need any] jabs - I just sucked it up.''
His health never appeared in question as he struck out 15 Venezuelan batters and allowed just four hits while working with a narrow lead.
Despite the heavy workload over the last two nights, and despite appearing physically spent following today's win, Manley must be considered as the favourite to be handed the ball for tomorrow afternoon's final.
The identity of New Zealand's opponent in the tournament showpiece remains unknown - with Venezuela set to play the winner of tonight's clash between Australia and Argentina for a spot in the final - but Manley more than proved his credentials today.
"He really shouldn't have been playing,'' coach Eddie Kohlhase said. "I thought it was a courageous effort just to be out there and they way he pitched was fantastic.''
Kohlhase said they team would get a gauge of Manley's availability from the team doctor, but the player himself was in no doubt of whether he will play.
"Definitely, I'm feeling better already.''
Manley did admit to being slightly surprised to be entrusted with the start, but said the performance of fellow pitcher Heinie Shannon - who threw six innings with a tear in his calf to beat Argentina earlier in the week - served as motivation.
He thought his illness, which had him battling "the spins'' on the mound, may have actually helped his performance as it made him determined to throw strikes.
"It helped me focus just a little more. You didn't want to lose too many pitches and use too much energy walking guys.
"There was a lot of concentration just on the next pitch. There was a lot of energy used just to get here. I was just counting down - there wasn't much of a groove, just counting down.''
Manley said it was ``hard to say'' who would start the final but, whoever takes the mound, the Black Sox will carry confidence into the game having beaten all three potential opponents already this week.
Kohlhase had no preference as to the opponent and he backed his side to grind out another win no matter who they face.
"The opponent is going to be tough either way,'' he said. "I'm just really proud of the team.
"The group has worked three of four years for this. There's a lot of resolve in this team. We're not dominating teams, we're just playing good, hard softball.''
Aside from Manley, there was little dominating about the New Zealand today.
The Black Sox bats never quite got going and they finished the game with six hits, the first of which from Donny Hale was followed by some smart base-running to eke out the opening run in the second inning. The batters remained quiet until the sixth, when a line drive from captain Rhys Casley drove in the second run to seal the game.
Casley, whose play in the tournament has been restricted by a shoulder injury, was pleased to get such a key hit but deferred the praise to his starting pitcher.
"We hung tough and Jeremy took us there in the end,'' he said. "When he came back in the dug out he could hardly stand up. There's been a lot of talk about heroics, but he was pretty crook today and I take my hat off to him.''
- APNZ