Kirwan says allowing players to explore ideas on and off park, within rules, helping them grow as team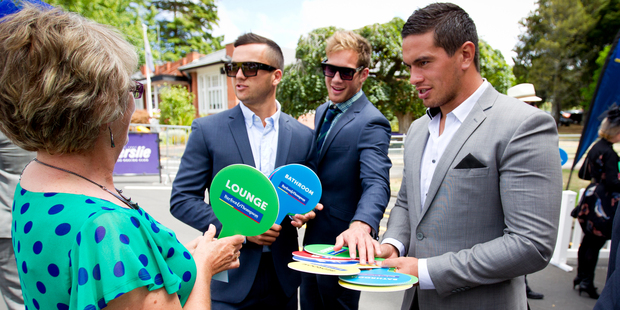 Piri Weepu sat in the bowels of Eden Park wearing a cap and red framed clear glasses as accessories to the team suit guidelines.
The rules for the Blues' kit are firm but within that outline, players are encouraged to showcase the sort of ideas and skills which have earned them their Super 15 contracts.
Their clothing range is a metaphor for their rugby, a framework to house their self-expression.
Coach John Kirwan has helped set the guidelines and wears his suit but is shod in less conventional sneakers.
Others have gone for plaid shirts, raucous ties or adopted mix-and-match jacket and trouser styles.
The Blues, Kirwan explained, included players from many cultures who wanted to unify as one winning culture.
"We will wear suits to show respect for the game which gives us so much.
That is about unity and setting standards," he said.
"The individual part is about the shirt you choose or the belt you wear.
"We have tried to create a game plan which best suits our players and if they stick to that game plan they can express themselves.
"It is the same as the suit. You don't have to wear a tie. It is like NBA.
"That is their philosophy. How do you get someone who is earning squillions to wear the same suit as someone else? You don't but a suit is necessary to show respect for their sport."
Respect for the range of cultures was important because the Blues, from senior statesman Graham Henry to the youngest Southland import Marty McKenzie, were all in this Super 15 campaign together.
There is a broad mix of European, Samoan, Tongan, Fijian and Maori ethnicities amongst the group with several Australians also contained within the squad.
"We are all in this together," Kirwan explained. "If you want to speak Tongan in the caf to someone else that is fine.
"We are operating on a bit of the Gandhi principle, understand and respect each other's culture and principles and go with it."
That concept is making progress. Kirwan sees some growth.
He reasons it is the only way for the Blues and the region to be successful. The Blues had to be as uniquely diverse as Auckland and its surroundings were but it had to be a franchise which got used to winning once more.
Finding the right formula and solutions was a jigsaw.
"You have to keep putting pieces into the jigsaw and moving them round and the players are driving this not me.
"You saw the way Piri dressed, that is how he is rolling. These guys have been told they can wear whatever suit they choose, we don't have a standard suit for all because everyone is unique."
The revamped Blues for tomorrow's Eden Park match with the Bulls had shown a real application during training. That had Kirwan on edge, a touch, he admitted.
A strong final hit out though would give him more faith that he and the coaching crew had made the best team move before their bye.
"This is a marathon," he said. "I think some of the guys have worked really hard in the off-season and have worked as hard as the starters and this is their chance to step up and show us we have a full squad of 37."
Chris Noakes, Culum Retallick and Peter Saili could have played with their minor injuries but it was best to get them fully fit.
That gave others like Baden Kerr their chance. He was a young confident player who had this stage to prove his five-eighth credentials.
The Bulls would bring a much different philosophy to their game than the Hurricanes and Crusaders. They would be direct and "brutal" and backed that up with Morne Steyn and players with plenty of speed.
"We need to bring game, big time," Kirwan warned.
Blues v Bulls
Eden Park, 4.05pm tomorrow
Blues: Charles Piutau, Frank Halai, Rene Ranger, Francis Saili, Waisake Naholo, Baden Kerr, Piri Weepu, Steven Luatua, Luke Braid, Kane Barrett, Ali Williams (c), Liaki Moli, Charlie Faumuina, Q. MacDonald, Tim Perry
Reserves: James Parsons, Angus Ta'avao, Ronald Raaymakers, Brendon O'Connor, Jamison Gibson-Park, Marty McKenzie, Albert Nikoro.
Bulls: Zane Kirchner, Akona Ndungane, JJ Engelbrecht, Wynand Olivier, Lionel Mapoe, Morne Steyn, Jano Vermaak, Pierre Spies (c), Arno Botha, Deon Stegmann, Juandre Kruger, Flip van der Merwe, Frik Kirsten, Willie Wepener, Morne Mellett
Reserves: Chiliboy Ralepelle, Werner Kruger, Grant Hattingh, Jacques Potgieter, Francois Hougaard, Louis Fouch, Jrgen Visser.