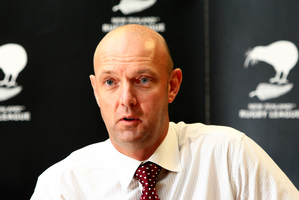 New Zealand and Australia will bid to co-host the 2017 Rugby League World Cup, raising the possibility of the game's biggest tournament being held in this country for the first time in nearly 30 years.
The transtasman bid would have a good chance of success for a number of reasons, not least of all the fact South Africa were the only other country to submit an expression of interest in time for November's deadline. Formal bids are due before October's World Cup in the UK and a decision is likely to coincide with that tournament.
The New Zealand and Australia bid will find considerable support, with four of the 10 members of the Rugby League International Federation board charged with making the decision from the two countries. South Africa are not presently represented.
Australia staged the last World Cup in 2008, when the Kiwis were victorious, but the last time a World Cup game was played in this country was the 1988 final at Eden Park.
A lot has changed in the international game since then and the New Zealand Rugby League have also proved themselves to be a lot more professional after a period of considerable disharmony. The World Cup has also become a commercial success, with A$5 million ($6.2 million) profit banked from the 2008 tournament.
NZRL chairman Scott Carter, who also doubles as RLIF chairman, is driving New Zealand's part of the bid and a key feature is the fact they have secured letters of support from the Australian and New Zealand Governments.
"South Africa acknowledge they don't have official government support because they are grappling with recognition internally separate from the South African Rugby Union," Carter said. "They are very keen to use this opportunity to bid off the back of a successful football World Cup to be recognised as a national sports organisation in their own right but have some political hurdles to overcome."
The NZRL are keen to host more internationals, boosting their domestic objectives, but in the past haven't been able to contemplate hosting a major tournament.
New Zealand and Australia traditionally co-host the Four Nations - formerly Tri Nations - sharing the load in 1999, 2006 and 2010 and the two countries are also due to co-host next year's installment. This year's World Cup will involve 14 teams - the last had 10.
Some discussions have been had around the division of games, with New Zealand likely to host one pool as well as one or two quarter-finals and one semifinal.
Carter was asked by Sports Minister Murray McCully whether they wanted to submit a bid on their own but the NZRL preferred a co-host arrangement. "We would rather work with Australia."
- APNZ