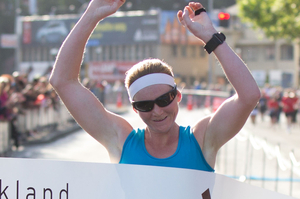 Jono Jackson finally claimed his first Round the Bays title last year when he blitzed the 8.4km run in 28:04 to hold off Tony Payne by just 12 seconds. The 22-year-old member of the Auckland City Athletics Club was relieved to finally win after three runner-up finishes in the long-running event.
He has been an elite runner since he was 16, and the Round the Bays is a good training run for bigger things to come. Meanwhile in the women's race, Lisa Robertson enjoyed a dream debut last year. The 29-year-old from the Pakuranga Athletics Club was nearly five minutes ahead of her closest rival, clocking in at 29:19 in her first Round the Bays.
Robertson, who is a jockey, police officer and athlete, is in doubt for this year's run as she got trampled by a horse two weeks ago and her leg is still tender. We caught up with the two defending champions to hear what they love about Auckland's most famous fun run.

What do you enjoy about the Round the Bays?
JJ: The atmosphere that comes with running a race with thousands of other people is electric and quite a spectacle to behold. Although it is just a fun run at heart, it is a race that grabs a lot of public attention, which is a rare circumstance in New Zealand running these days. Gone are the glory days where thousands of people would flock to watch John Walker and Peter Snell tear up the running track.
LR: Just seeing the huge number of people getting out there and running. It's something that most people can do at a minimal expense and gain so much personal achievement from.
What are some of your fond memories from your win last year?
JJ: I had come second for three years in a row so I was almost relieved when I finally won the thing and broke the silver medal curse.
LR: An enjoyable run, good scenery and a great atmosphere post-event. It was really good to see so many people enjoying the day.
What advice do you have for people who are running it for the first time?
JJ: Get there early and try to get as close to the start line as you can, otherwise you will be waiting for a while after the gun (or rather cannon) goes as the foot traffic clears in front of you.
LR: Whether you're out there to go as fast as you can or to just enjoy it, if you've set yourself a reasonable and achievable goal, how can you be disappointed? There's a lot of people to get through so just soak up the atmosphere.
What other events and goals do you have lined up for the 2013 season?
JJ: New Zealand Track and Field champs are in Auckland at the end of [this month], so I have been training hard to try and medal in the 1500m and the 5000m.
LR: I have been fortunate enough to be invited to run the Gold Coast Marathon in July this year. I am hoping to use this as an opportunity to attempt to qualify for the Commonwealth Games.
Leading up to this I will be taking part in the Run Auckland Series and also the Christchurch Half-Marathon in June.

2012 winners
Men
1st - Jono Jackson, 28min 4sec
2nd - Tony Payne, 28min 16sec
Women
1st - Lisa Robertson, 29min 19sec (in her first Round the Bays)
2nd - Nikki Hill, 34min 14sec
Round the Bays
When: Tomorrow, 9.30am
Start: On Quay St, adjacent to Vector Arena between Tinley St and The Strand overbridge (no public access via overbridge)
Finish: At Vellenoweth Green, St Heliers Bay
Distance: 8.4km
Cost: Adults $15, children $10 (16 and under), free entry for children 5 and under)
Late registrations: Available until 9am on the day