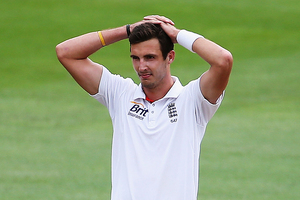 The peformance of the England cricketers has been strongly - and perhaps predictably - criticised by English media.
After the visitors were rolled for 167 on the first day of play in Dunedin and the Black Caps responded with 131 without loss, the Daily Mirror's Mike Walters delivered perhaps the ultimate putdown, asking: "Are you Aussies in disguise?"
Walters continued: "As England suffered yet another false start to a series abroad, they played like a bunch of Baggy Greens being gently annihilated in alien conditions.
"In New Zealand, the department of pinstripes and rubber stamps has been holding a census this week, requiring every resident and visitor to fill in a form declaring their nationality and status.
"Kiwi ministers are thought to be considering the removal of bogus tourists claiming to be the second-best cricket team in the world after England were skittled for 167 and New Zealand skipped to 131 without loss when the first Test opened for business at the University Oval."
Click here for live scoring of day three's action between England and New Zealand.
Former England captain Michael Vaughan said the tourists were guilty of a "lack of respect" and former England opener Geoff Boycott said they were "sloppy, careless, and I feel there's almost a holiday atmosphere".
"England didn't respect the game," Vaughan told BBC radio's Test Match Special programme. "England's mindset has been over-confident; they weren't prepared to do the hard yards."
Vaughan, who captained England in 51 of his 82 tests, later wrote in The Telegraph, "It is excusable to be bowled out by an attack containing Saeed Ajmal, as they were in the first Test in Dubai last year, or Dale Steyn on a green top at the Wanderers, but to be dismissed by Bruce Martin and Neil Wagner on a pitch that did not do a great deal tells you something is not right upstairs. These players are too good to produce performances like that.
"Would they have been dismissed for 167 on the first morning of an Ashes Test in front of a full house at Lord's or Brisbane? No chance. But the same attitude has to apply on a freezing, windy morning in Dunedin."
Populist tabloid The Sun, used the headline, 'Dun for! Horror show leaves England humiliated' and went on to say: "The root cause was a batting display of such ineptitude that it was almost impossible to comprehend.
"Batsman after batsman tossed his wicket away on a docile pitch against an attack that should cause no decent player to lose sleep.
"They continually hit the ball in the air - and the New Zealand fielders gratefully swallowed the chances. It was a pile of utter tosh."
- APNZ