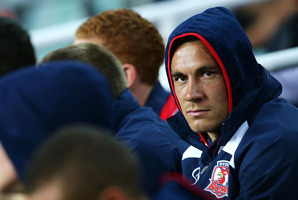 The broadcast of a bizarre pre-recorded Sonny Bill Williams monologue as he entered the field during his NRL comeback has irritated league fans.
The superstar's return was not enough to lift the Sydney Roosters, who fell 28-10 to the South Sydney Rabbitohs in front of a crowd of 35,942 at Allianz Stadium in Sydney.
As Williams walked along the sideline and onto the field with 11 minutes remaining in the first half, one of the game's TV commentators said: "I wonder what's going through Sonny Bill Williams' head right now?
Broadcasters Channel Nine then played this pre-recorded voiceover by Williams: "How am I going to meet this? I can either freeze or I can just walk through it, you know, I can get the jitterbugs and be nervous, hold back, or I can meet the confrontation head on - and that's what I'm going to do.
"I'm gonna get out there go looking for the ball, go looking for some tackles, go looking for some work, do the one percenters, just trying to keep things as simple as I can, that's what I'm thinking."
Many watching hoped it would be the last voiceover of the season.
"Am still really creeped out by the in game SBW voice overs..Really creeped out...Hear it in my head still actually," @Crowdiegal wrote on Twitter.
"What the hell was that? SBW voicing over his own entry to the game? Not a fan, nice try, but leave that stuff to WWE," The League Fix's Sam Ackerman wrote.
Others welcomed the innovation.
"Interesting how sme sports fan don't like SBW voice over. I loved it innovative, takes coverage to new places. But then that's just me..." Bailey Mackey wrote on Twitter.
A parody Twitter account called @VoiceofSBW was set up afterwards, posting messages like "Why aren't the footy show interrupting these blokes with my thoughts!" and "Phew, was starting to wonder if I still had it, then I remembered, I'm SBW - I have it. In spades."
On the field, the Kiwi was greeted with some heated words from Sam Burgess, who then ran straight over the Rugby World Cup winner, much to the delight of Rabbitohs supporters.
After coming on off the bench, Williams played the remainder of the match, and scored a late consolation try for the Roosters in his first league game since 2008.
Read more: SBW scores, not enough to win
- nzherald.co.nz