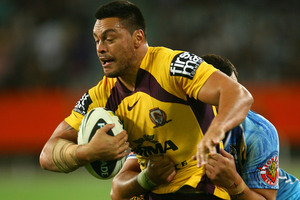 Ultimate professional Alex Glenn plans to take over some of the big power plays of departed Brisbane forward Ben Te'o, starting tonight against Manly.
It may have slipped under the radar that the young Kiwi international led the Broncos' try scorers last season, the first forward to do so in the club's history.
However, that is a fair indication their attack didn't fire as well as hoped for in 2013, especially late in the season.
"That's part of my job, to crash over the line," said the 24-year-old back-rower, who is seen as a future Broncos captain. "Losing Te'o this year, he was a big strike factor for us in defence and attack.
"Me and Matty Gillett will have to step up on those edges and scoring more tries this year is definitely a goal for me."
Manly have had the wood on Brisbane in recent years but they head to Brisbane with a different look, Tony Williams having joined Canterbury and backrower Glenn Stewart out injured.
Without those two line-breakers they don't have quite the same intimidation factor, although they still have the strike power of fullback Brett Stewart and centre Jamie Lyon working off polished halves Daley Cherry-Evans and Kieran Foran.
"I don't think they've [Brisbane] lost anything at all - they will always be a top-four team in my eyes," said Glenn Stewart, who has a slight medial strain.
"We got away to a fairly good start last year so we'll be hoping to do the same this year," said Manly coach Geoff Toovey, after winning just one of his three pre-season trials.
- AAP