Rower's omission from Sydney sends clear message to elite to put in the training.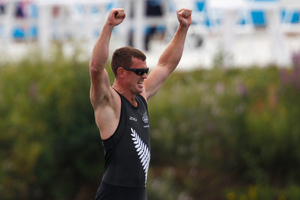 Olympic champion Joseph Sullivan could still be rowing at this year's world championships in South Korea in August.
His omission from the New Zealand elite squad for the season yesterday raised eyebrowsin the rowing community. Fellow London Olympian Emma Twigg tweeted that the decision was "a joke".
However, Sullivan admitted in discussions with the selectors that his fitness was not quite where it should have been, according to Rowing New Zealand high performance boss Alan Cotter.
Sullivan did the recent Coast to Coast multi-sport race and his knees are sore. So Sullivan, who with Nathan Cohen was part of the double scull gold medal winners from the London Games, is missing the Sydney World Cup regatta this month to lift his fitness levels.
The decision to leave Sullivan out should also serve as a shot across the bows of the elite and leading age group rowers.
The message: if the selectors can omit an Olympic champion, dumping promising up-and-comers who don't measure up at trials and haven't put the kilometres in won't give them sleepless nights.
"Rowing sets high standards," Cotter said last night. "It's about keeping up to the standard. We do not select crews we don't think will perform, certainly [they are expected to] make an A final. The younger ones know this, they know they've got to train hard to get up to this standard. And a high standard keeps everybody honest."
Hayden Cohen has been placed in the quad, along with brother Nathan, Fergus Fauvel and Nathan Flannery, the Southern crew who won the national title on Lake Ruataniwha, Twizel, last month.
Cotter expects Sullivan, a former under-23 world single scull champion, to return and made it clear the Picton sculler is firmly in the plans for the next Olympic cycle.
"He's in our thinking for Rio, no doubt about that," Cotter said. "He's an Olympic champion and he hasn't lost too many races over the last five or six years. We don't want to lose him."
A squad has been chosen for the Sydney regatta, starting on March 22, however Olympic champions Hamish Bond and Eric Murray are sitting it out, having made a late return to training, along with single sculler Twigg and coxless pair Rebecca Scown and Kayla Pratt, who has replaced the retired Juliette Haigh in the bronze medal boat from London.
There will be a second round of trials in mid-year. That gives the selectors scope to make changes to crews which don't measure up. The idea is to have them peak for the worlds in Chungju, South Korea, starting on August 25.
A women's eight is on the World Cup list, but not a men's crew in the blue riband event. Cotter confirmed the women's eight plans are further advanced than the men.
The under-23 men's eight will compete in Sydney. It is all part of the strategy to have New Zealand boats in all 14 events at the Rio Olympics.
"We aren't just going to chuck people in the deep end. We like to bring them through the development and at this stage the men are coming in that way."
No one has been placed in the men's single sculling seat at Sydney. Olympic champion Mahe Drysdale, taking time out, is expected to be back at the second round of trials, with an eye on the worlds. The other two World Cup regattas are at Eton in June and Lucerne in July.