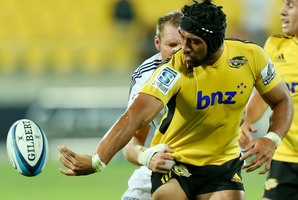 Q: Do you still live in the same house you did when you made your Hurricanes debut?
"No. When I first made my debut I was living in a flat on Courtenay Place. Now I live in Newtown, with my partner."
Q: What's your pre-game routine?
"Relax before my pre-match meal. Go see some family and that sort of thing. Then four hours before the game I'll have my meal then obviously start to get into game mode and then go together with the team and do our lineouts and that sort of thing."
Q: What's in your pre-game meal?
"Pretty staple. I just normally have mashed potatoes, baked beans, two eggs and a bit of ham."
Q: Are you a music person before the game? If so, what do you listen to?
"Yes, I'm a music person. I listen to R&B and hip-hop ... Usually Rihanna. I just love Rihanna so anything by her, but normally [the song] What's My Name? as I'm moving in to the stadium."
Q: How much has your bench press improved since your first game for the Hurricanes?
"Not by much, to be honest. I was pretty young and exuberant then and I was chucking around some good numbers. Right now I'm probably just holding around the same: about 150-160kg. It's not that bad, if anything I was stronger then than I am now but I'd say I'm a better player now than I was then."
Q: What size boots do you wear?
"Fifteens. Adidas bump up to a 14 to a 15. It's just up to them really."
Q: Do you have a favourite try from your career? That one from the Wellington sevens tournament in 2008 was pretty memorable.
"That'd probably be my favourite try in my career. For me, it was probably the launching pad to the rest of everything else. You see with Frank Halai he made his name in sevens and now he's playing well with the Blues and it's still a great springboard for higher honours."
Q: You've played 20 tests, what have you done with your All Black jerseys?
"I've kept pretty much all of my ABs ones apart from one I've given to my college [Scots College], one to my mum, one to my dad then the rest of them I haven't really given them away."
Q: Have you collected many international jerseys from your time playing for the All Blacks?
"I've got a couple. I've got a Argentinian one, English one - unfortunately; a Welsh one, an Italian one and there's another one ... an Irish one."
Q: What do you hope to achieve in your next 50 games for the Hurricanes?
"The next 50 games is really just getting some consistency of performance and being championship contenders."