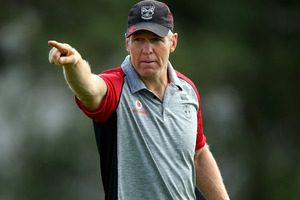 The great thing about rugby league is that, no matter how bad things were the previous season, teams get a fresh start every year.
After the gloom of last year, I am optimistic about the Warriors this season. If they can avoid the sort of injury toll they have had over the past couple of years, which has bordered on ridiculous levels, there's no question they can be a top-four side.
They have recruited well - adding to an already strong roster - look incredibly fit, and have a new coach in Matt Elliott who is a very good fit for the club.
Elliott is a top coach who has brought a disciplined approach, something that was probably missing last year, and will put a big accent on defence.
It was a part of the game sorely lacking last season when they conceded 609 points in 24 games, but Elliott has always demanded that his sides be stingy on defence.
It's a similar approach to that of Eels coach Ricky Stuart and it will be interesting to see how the Warriors stack up against Parramatta in their first game of the season tomorrow night.
I like what I see at the Warriors and what I am hearing from players and coaching staff.
The players have clearly been put through a difficult pre-season and that's encouraging because there is no substitute for hard work.
The club has also invested more than $1 million on their new gym and high-performance equipment and, while this doesn't guarantee anything, it gives teams an edge.
They have also added steel in the players they have recruited. Centre Dane Nielsen and back-rower Todd Lowrie bolster key positions that were deficient last year and know how to win games. They invariably make the right decisions and this breeds confidence in teammates and confidence in defensive structures.
Thomas Leuluai is a very different individual. He's old school. His sort of attitude and tough background - he has been playing top-level rugby league since he was 18 and has 30 tests under his belt - will benefit the organisation hugely. One of the most important things is that he will bring his tough attitude to training every day and demand standards are met.
He will be able to direct a forward pack that looks like one of the best going around this season. Forward power has always been a feature of the Warriors, but this pack appears stronger than those of previous years.
I am incredibly optimistic about what the Warriors can achieve this season, but it is imperative they get off to a good start. There are always high expectations of the team because Auckland is a one-club town but they have players who can deal with this.
They have an experienced roster with a handful of leaders and the new recruits only add to that.
It all looks good. Now the Warriors need to prove it.