One of the Warriors' rising stars is determined to be a bigger hit than he was in 2012, Michael Brown reports.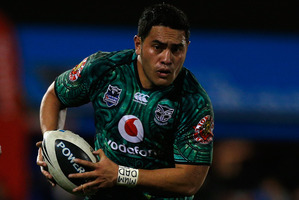 Professional sportsmen each have different motivations and for Konrad Hurrell it's 1996km away.
The 21-year-old Warriors centre who grew up in Tonga around six brothers and sisters remembers a childhood without boots to play rugby - he didn't play league until he was 19 - and throwing around a bottle because the family couldn't afford a ball.
The Hurrell family circumstances have changed a little in recent times thanks to their son, who sends regular cheques home.
"Growing up in Tonga, we had nothing," Hurrell says. "We were poor.
"My family is pretty much why I am doing this. It's not for me, it's for my family. Hopefully I get to give some more to the community back in Tonga and New Zealand as well. My parents didn't have much work at home and it feels good to help. I will play for myself later on but for now it's not about me."
It doesn't mean he hasn't afforded himself a couple of luxuries. He lives with his aunt in Auckland but has bought himself a Holden.
"When I got here I didn't have a car but I always dreamed about it back home," he says. "I have one now. I'm proud of it. It's one of the things I love."
It has all happened off the back of a whirlwind last few years. He arrived in Auckland in 2009 as a raw schoolboy rugby player on a scholarship to Auckland Grammar and in 2011 signed with the Warriors despite not having played the 13-man code.
He scored 22 tries in 21 games for the Junior Warriors in the under-20s competition in 2011 and last year was promoted to the first-grade side by coach Brian McClennan.
He made an immediate impression, scoring 12 tries in 17 appearances with his blockbusting style, and at one stage touched down 11 times in seven games. Each one was celebrated with a trademark blown kiss to his mother in Tonga.
Hurrell's mum plans to travel to Auckland at the end of the month to watch her son play rugby league live for the first time. She was too ill to travel last season.
What she will see, Hurrell hopes, is an improved version of the 2012 model. For all of his explosiveness and try-scoring ability, he was often exposed on defence and struggled to cope with the demands of week-in, week-out football.
By his own admission, he didn't know how to pace himself, which affected his ability to play 80 minutes and he was dropped for four games to learn more with the Vulcans.
"I was too excited just to throw my body in there," he says. "I'm starting to learn more about the game and pacing myself. There are guys on the field who are smart and know how to manage themselves. I'm getting better. I'm learning when to join the runs and pace myself on defence.
"When I started my journey, I got frustrated all the time when I misunderstood stuff in the middle of the game. I let the boys down.
"Last year I learned a lot about the game. I still need to learn more and talk to the likes of Manu [Vatuvei], Jerome Ropati and Feleti [Mateo], as well as coaches.
"This year will be a bigger challenge than last year because everyone knows my game now. I was targeted during pre-season games."
He will have to get use to it. Parramatta are bound to keep a close watch on him tomorrow night, but it doesn't mean they'll be able to cope with his power.
"It sent shocks down my shoulder," Brisbane utility Alex Glenn recalled about trying to tackle Hurrell last season. "He was giving me pins and needles ... a guy of his size does that to you."
He goes into a new season in good shape, although his weight was an issue in the off-season when he ballooned to 114kg. He's managed to lose most of it, dropping 8kg in a punishing pre-season campaign, but still wants to shed another 2kg-3kg to an optimum 105kg playing weight.
He returned to Tonga with Vatuvei recently on behalf of the club. It gave Hurrell a chance to not only see his family but also understand what sort of impression he is making in his homeland.
Coping with his fame has sometimes been a struggle for the quietly spoken youngster.
He admits he "tried to run away from it" in his early days but has come to appreciate it and even enjoy it more recently.
There is really only one person he is trying to impress, however, and she might also be his No 1 fan.
Konrad's krushing start
2012 stats
Games: 17
Tries: 12
Runs per game: 11.4
Metres/g: 111.2
Tackles/g: 9.9
Linebreaks: 12
Offloads: 10
Did you know:
Hurrell is a former New Zealand secondary schools weightlifting champion. He was convinced to take part by the Auckland Grammar first XV coach and managed to lift 94kg in the snatch and 110kg in the clean and jerk. "I had no technique at all," he says. "I just lifted the thing and won."
- APNZ