Owen and Ben Franks believe parting of the ways will help their rugby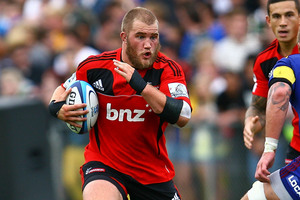 As Owen Franks prepares to go head to head in a match against his brother, Ben, for the first time, he has revealed he would have left the Crusaders in search of more game time if his elder sibling hadn't.
The Crusaders' policy of mixing and matching their three All Blacks props - the Franks and Wyatt Crockett - didn't go down well with the brothers, who felt they needed regular games to get into the rhythm required to excel in their positions.
With no guarantee things would change this year, Ben left for the Hurricanes, where he has joined coach Mark Hammett, formerly of the Crusaders.
"It's probably better for everyone," said Owen. "If it wasn't Ben going, I would have gone. It's pretty hard trying to get your game going when you're on the bench every two or three weeks."
Owen and Ben are training partners and good mates off the field - they have collaborated on a book Training Tough. But tonight they clash at Westpac Stadium.
The brothers have played against each other before - in a national provincial match for which Owen represented Canterbury and Ben Tasman, but both played tighthead prop. But Ben will be at loosehead tonight, so it will be the first time they have gone head to head.
"We get on really well, but when it came to training [at the Crusaders], I guess we were going for that same spot," Owen said.
"It's quite nice now to not have that in the back of your mind all the time. But then you have the other side of the coin where we have to play against each other, but that's just part of being a professional.
"He's really strong," Owen added of Ben's qualities. "As a loosehead he gets a good bind up. He's really destructive as well. My job will be to not give him a chance to open me up, making sure I can give the backs good ball.
"I'm just going to really have to be on my game this week as technically he's really good."
At 25, Owen has been in the All Blacks since his first test against Italy in 2009, the same year he began his Super Rugby career. He has 45 test caps to 28-year-old Ben's 23.
The pair attract praise for their professionalism, but there have been suggestions that Owen reached his peak a couple of seasons ago and that the weights are taking precedence over the rugby.
Not so, he said, although he conceded 2011 was one of his best years with the Crusaders and All Blacks.
"I started in 2009 and the end goal was always getting to the World Cup. That [2011] was really the year when I was looking for everything to come together and [I was] peaking, so it probably was.
"[But] it's definitely my goal to get to the next World Cup."
Asked if he was still making gains in the gym, he said: "Yeah I am. I try to improve every pre-season ...
"You've got to get the balance right. Too much of anything is not going to be good. We're rugby players, not weightlifters, so you have to make sure you get the right balance of weight training and rugby training."
He said he welcomed competition from players such as the in-form Ben Afeaki at the Chiefs and Charlie Faumuina at the Blues.
"Those guys have been around for a while but are starting to come into their own. It's about me staying on top of the heap."
Hurricanes v Crusaders Westpac Stadium, 7.35 tonight
- APNZ